LIFE CYCLE: A GLOBAL RIDE TO FIGHT CANCER (AROUND THE SOUTH POLE)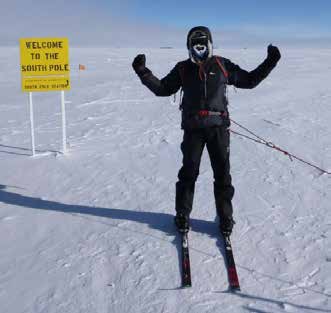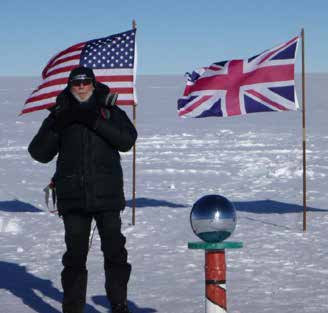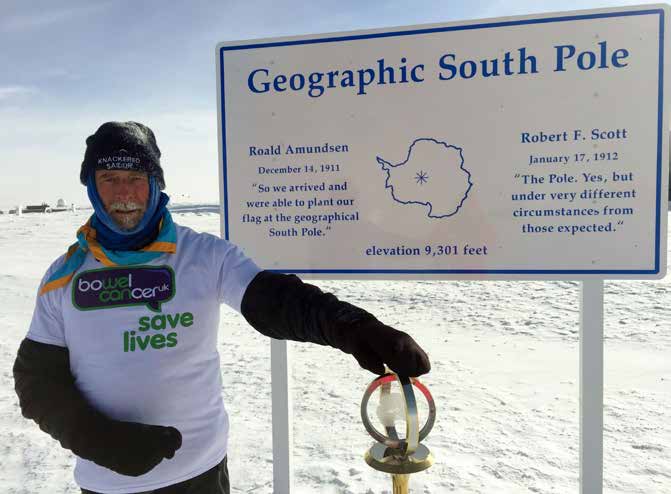 Following on from our ground-breaking
Polar Exhibition in November last year,
we asked David Rose to talk to three times
cancer survivor Patrick McIntosh about his trek across the Antarctic to the South Pole.
When Patrick McIntosh first cycled around
the world, it didn't take him long. The chartered financial adviser from Surrey borrowed a bike, aimed the handlebars to the left, and in just a few pedal strokes, he had circumnavigated the globe.
Of course, it helped that Patrick was at the
Geographic South Pole, having walked there
with the renowned polar explorer Conrad Dickinson.
According to Patrick, the 138-mile (222km) journey across the Antarctic was "the toughest thing I've ever done". And this was no small boast, coming from a man who has sailed
across the Atlantic Ocean, climbed Mount Kilimanjaro, and has also battled three different types of cancer.
The 63-year-old is now determined
to cycle around the world again, although this time the journey will take a lot longer – and involves a lot more pedalling.
Last September he completed the first leg of his trip by cycling more than 7,200 miles from his home in Smallfield, near Gatwick, all the way to Tokyo, Japan.
The regular blood donor and philanthropist
has certainly come a long way since discovering
he had bowel, prostate and skin cancer after he went to give blood in 2012. "The doctors looked at the blood test results and told me I shouldn't be able to stand up," he said. "My iron levels had fallen off a cliff, and I was told something must be seriously wrong."
Patrick says he owes his life to that early diagnosis: his low iron levels were caused by
internal bleeding and he had surgery almost
immediately, removing stomach muscles, five
lymph nodes and seventeen inches of his bowel.
"Fortunately, the disease was caught early, and I was able to have that operation," he said. Having kept active all his life, Patrick did not want to let his ordeal slow him down. He adopted a vegan diet and started his own charity, the KMG Foundation, with the aim of raising awareness and contributing to good causes.
He also decided to climb Mount Kilimanjaro
in Tanzania and just seven months after his diagnosis and surgery, he was standing atop the summit after a three-day ascent.
Sadly, though, his journey with cancer was not over. Shortly after returning from Africa, Patrick was told he had prostate cancer, and then skin cancer. He had further surgery to remove his prostate, along with more muscles and further lymph nodes, and he still requires regular checkups to manage his skin, several years later.
None of this diminished Patrick's appetite for a challenge, however.
In 2015, while still undergoing treatment, he
trekked to the South Pole, pulling a 45kg sled in temperatures as low as -50°C, with much of the journey in high altitudes, 13,000ft above sea level.
"It had recently been the centenary of Robert Falcon Scott's expedition and I thought, 'why not?'," he said. "Having had not one, but three cancers, I considered myself very fortunate to have survived, and I wanted to do something that would also get people thinking and talking about their own health."
Patrick had previously sailed across the Atlantic with a friend who wasn't so lucky.
"Cancer affects so many people," he added. "A
good friend of mine had bowel cancer diagnosed at the same time as me. We were the same age, the same level of fitness; the difference was I was diagnosed with stage 2 cancer, whereas he had more advanced stage 3 cancer.
"Sadly, my friend died a year after diagnosis. This made me even more determined to encourage people to get tested early, eat better
food, exercise and stay positive."
For his South Pole trek, he recruited Conrad Dickinson from Hexham, a former soldier who had previously joined Prince Harry's "Walking With The Wounded" Antarctic expedition. The pair completed the gruelling trip to the Pole in 11 days, carrying all their supplies and equipment.
Patrick said he was relieved "to have had absolutely no malfunctions in my body
whatsoever", despite his previous illness and
surgery.
"It was an extreme physical test but also a mental one," he added. "The hardest part was just to get up each morning and keep going. But Conrad told me: 'Either we carry on, or we die.' and that helped focus my efforts!"
Upon arriving at the South Pole, Patrick celebrated with a cup of tea. He then borrowed a bicycle from the American Research Station and rode "around the world in 30 seconds".
His trek raised more than £250,000 for charities and on his return to England, Patrick became a popular public speaker, giving talks
about his adventures.
"The two most common questions I'd get asked were: 'how do you go to the loo at -50 
degrees?' Answer: 'Not easily!'
"Then, 'What is your next challenge going to be'?"
After telling audiences he'd like to cycle around the world again, "the long way around", Patrick set off in May last year, with support
from Dame Judi Dench and the England Rugby Team.
He then cycled through Southern England, Holland, Germany, Denmark and Sweden, before cycling across the whole of Russia from St Petersburg to Vladivostok.
It wasn't all smooth riding: Patrick had his bike stolen, battled extreme weather conditions including severe flooding and Siberian forest
fires, and suffered from gout due to dehydration.
After more than four months of cycling, Patrick reached Tokyo safely on 20th September 2019, and by his efforts raised a further £125,000 for the World Cancer Research Fund and St Catherine's Hospice, West Sussex.
But Patrick is not yet finished with his global bike ride. Fitting in time for work and family, in 2020 he will continue his journey in stages, starting with the UK home nations before cycling across America and Iceland.
"It may seem crazy to be doing all these mad things, but I am serious about raising awareness to help everyone reduce their risk of getting cancer in the first place," he says.
To find out more or donate to Patrick McIntosh's Life Cycle: A Global Ride to Fight Cancer, please visit: www.kmgfoundation.co.uk