Since the creation of the first wristwatch in 1868 for Countess Koscowicz of Hungary, Swiss watch manufacturers like Patek Philippe, Omega and Vacheron Constantin have been creating unique watches to meet demand from the ever-growing market. Although the first timepiece designed was specifically for use on the wrist, it was designed primarily as decorative jewellery. Claims have been made that pocket watches were adapted to be worn on the wrist prior to 1868, perhaps even as early as the 1570s.
It will come as no surprise to discover that these early Swiss wrist watches are now regarded s vintage pieces and consequently highly collectable, but it is a common misconception that investing in watches is for the super-rich only. In fact, you do not have to be a big spender at all to make an entry into this market – it is not a question of how much you can invest, but rather how you formulate
your investment choices. I believe it is important to always approach your investment by selecting a watch which is in very good condition and is authentic. As with all investment-grade material in tangible assets, the key to a successful investment is quality above everything else.
The high-end watch market has always been a strong investment vehicle for the wealthy. Tattooed rockers, tech business owners and Instagram influencers pile into the tweedy world of watch collecting, which has seen prices for sought-after classics from brands like Rolex, Omega and Patek Philippe shooting up. In some cases, they have doubled in just a couple of years. These next-generation collectors see old timepieces not just as a subtly stylish way to dress up a T-shirt and jeans, but also as a hot new asset in their investment portfolios.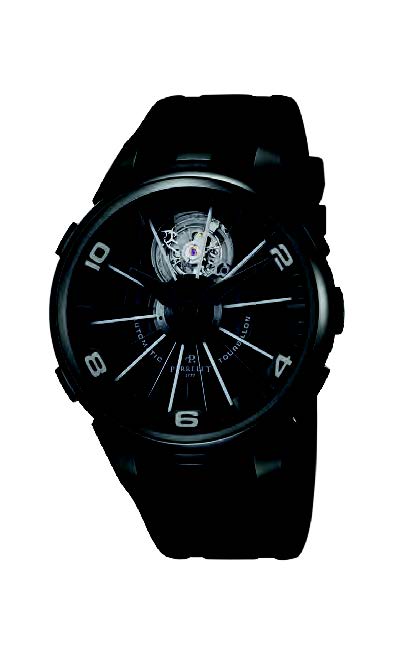 In a market where stocks, bonds and real estate seem unsteady, vintage watches & luxury watches (new) present a steady long-term growth opportunity. The jargon can we rather confusing when you start buying watches for the first time, but it is worth spending some time getting to understand what you are investing in. Whether it is a sports- or a dress watch, you need some knowledge of the mechanics and functionality of each when considering an investment.
Technical terms
Automatic Movement: an automatic watch has a mechanical movement and does not need to be regularly wound. Its power comes from the movement of your wrist as you wear it. Most automatic watches have a power reserve of up to 36 hours.
Chronograph: a watch with three sub-dials within the larger dial. It is used to display other functions of the watch, such as a stopwatch.
Chronometer: a Standard set by the Official Watch Institute of Switzerland (COSC). The watch has been rigorously tested for its accuracy at various temperatures and in different atmospheres, and is supplied with a certificate.
Cosmograph: as with a Chronograph, except that the Tachymeter function is found on the bezel of the watch.
Mechanical movement: a movement based on a mainspring which is wound by hand; when wound, it slowly unwinds the spring in an even motion. An automatic mechanical requires no winding because of the rotor, which winds the mainspring every time you move your body.
Tachymeter: often used in the motor industry to measure the speed of a car over a specific distance. It is measured via a scale on the bezel of a chronograph. Average speeds or hourly production rates can be calculated over a period of observation of less than 60 seconds.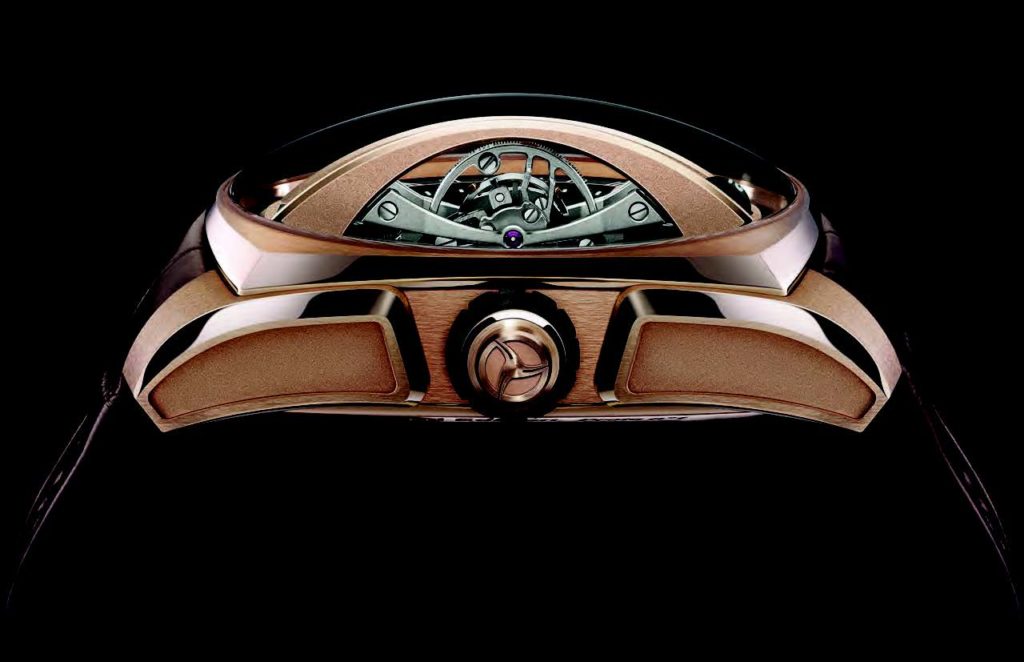 Watch aficionados describe additional horological functions as a 'complication'. An example here would be a small window which displays the day of the week, date or other time zones. Then there are the different types of watches to consider: a chronometer which is a precision watch that usually comes with a certificate testifying to its accuracy; a chronograph which has stopwatch functions; and diver's or aviator's watches which are mainly used by professionals, but which are also collected by enthusiasts.
In such a vast and specialist industry where prices range from £1,000 into the millions, it is difficult for most would-be investors to know where to start. A good beginning point would be to head over to Bonham's, Dreweatts & Bloomsbury or Christie's to find some of the most lucrative deals on luxury timepieces. Building a portfolio of watches can be as complex as one based on stocks and bonds, but with an access point like Spink it can be made very accessible.
So what would a wristwatch-based investment portfolio look like? Here is an example of the kind of portfolio which can be built for you:
Pre-1970s Cartier Tanks: with only a few thousand made and many of them different, these represent absurdly good value.
Vintage Vacheron Constantin complications: these are hugely undervalued compared to Patek Philippe watches and are extremely rare.
Vintage Tudor chronographs and military issue: prices are on the rise following a near-perfect relaunch of the brand.
Patek Philippe: 18 carat gold case on a bracelet, circa 1970, manual-wound movement. An absolute gem to include in your collection, these watches represent an interesting diversion in the history of the brand.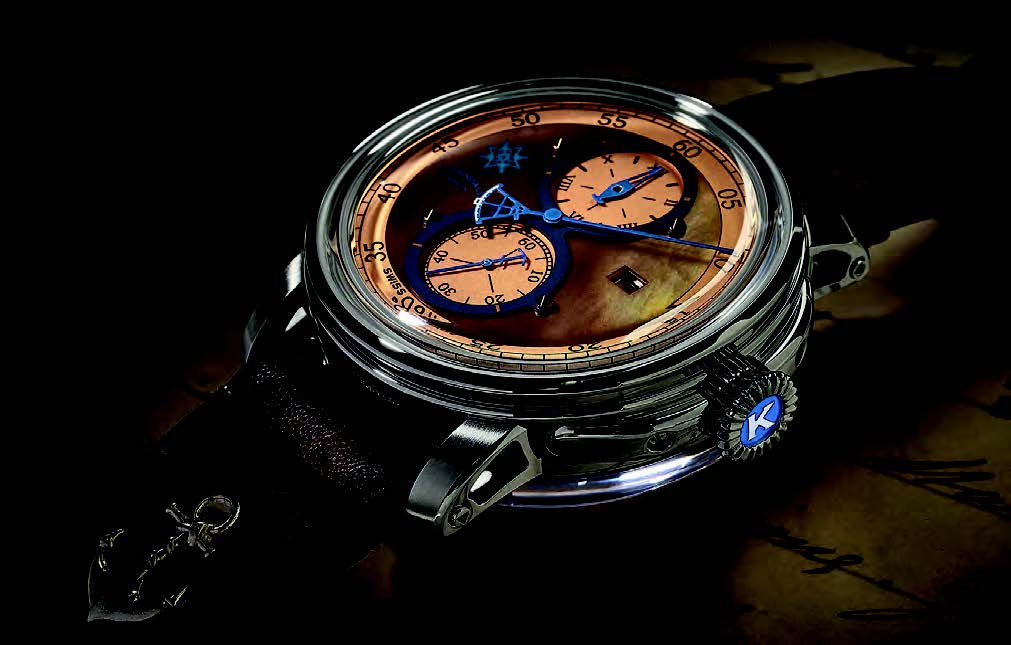 When looking for a rare luxury watch, complexity and condition make all the difference. While there are major gains to be made, it takes a good eye to know the difference between a smart investment and a poor one. The brand name on the dial can make or break a watch's commercial value and collector viability. Patek Philippe, Vacheron Constantin, Audemars Piguet, Rolex, Breitling and Omega all perform strongly at auction. Raymond Weil, L Kendall, Perrelet and various other smaller manufacturers of chronographs have seen increased interest recently, though these are rare exceptions. Big, high performing luxury brands offer the best investment opportunities.
While the market is dominated by these highly regarded brands, you should not forget about the smaller retailers, as you never know what potential they may demonstrate further down the line. Exclusive watch manufactures such as Cyrus, L Kendall, Perrelet, Czapek and Manufacture Royal are already showing real potential to become classics of the future. Including one of their watches may prove to be a profitable and wise addition to your portfolio.
Alternative Investments
What if there was an investment that was in no way tied to how the stock market will perform in the next ten years? Irrespective of whether there is a decline or a recovery in operation within the stock market, alternative investments are capable of achieving independent returns. As with all investments they can reap great rewards or under-perform, but are not dependent on their performance on what is or is not happening within the stock market.
Here are a few benefits of Alternative Investments:
a. Returns are independent of Stock Market Performance;
b. Reduction of risk via portfolio diversification;
c. Perform well historically during market crises;
d. Uncorrelated to traditional investments such as stocks, real estate, and bonds.
This graph produced by "Atelier de Griff" would indicate that the price of the Rolex Daytona has shot up over the years compared to inflation. However, as they explain, it does not include changes in purchasing power, fluctuation in the cost of materials or advancements in the technology used in the watch.
Looking at the chart, the prices for several Rolex models have grown steadily over 40 years, but towards the end have been keeping steady with no increase. Since 2012, prices have remained mostly the same across the listed Rolex models. That is more than five years now that we have not seen any significant price increase for these models. The Stainless-steel Rolex Daytona price, however, has gone up consistently.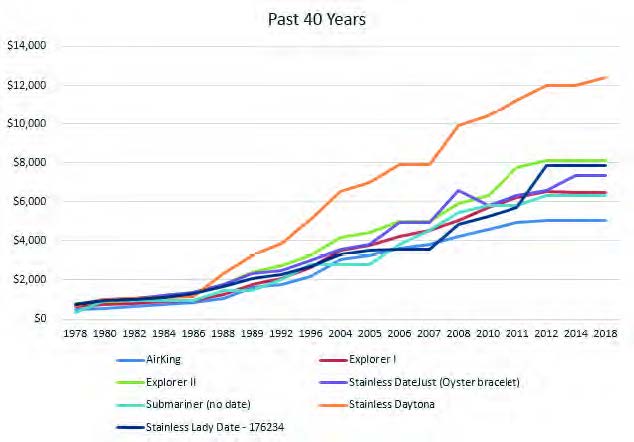 DIVERSIFICATION
Diversification is a vital strategy for all investors. Generally speaking, particular investments or as-set classes will perform better than others over a specific period depending on a range of factors. A portfolio within Alternative Investments could consist of rare stamps, coins, rare books, classic cars, watches and jewellery.
Wealthy individuals are putting passion into their investment portfolios – the days when they were only filled with shares, cash and bonds are long gone. Today, alternative assets such as the above play an increasingly vital role in contributing to the overall value of someone's wealth.
According to the Coutts Passion Index precious items include jewellery and classic watches, which have both grown steadily since 2005. Both classifications lost value during the global recession, but their price return both before and after were extremely strong. 
You would have more than doubled your money by buying a classic watch last year rather than sticking with the stock market, according to an index of how the wealthiest people in the world invest their cash. The sale price of some of the most sought-after timepieces auctioned by Sotheby's and Christie's in 2018 rose by an average of 20% year-on-year, according to the Passion Index. This compares with an 8.7% fall for the FTSE 100 index over the same period and that is even with dividends reinvested. (source: The Times)
According to Peter Flavel, Chief Executive at Coutts, "Wealth isn't usually a goal in itself. And what you do with your wealth can define you. Our clients are driven by passion – passion to succeed, passion to innovate, passion to preserve what is best in our world. Our aim is to help clients use their wealth to turn their passions into reality. These are the things we will remember and be remembered for."
The investment market is full of opportunities if one knows what to look for. If you are buying as an investment, then as I have stressed, rarity and condition should be your top priority and I would encourage buyers to look for the best quality watch(es) within their price range.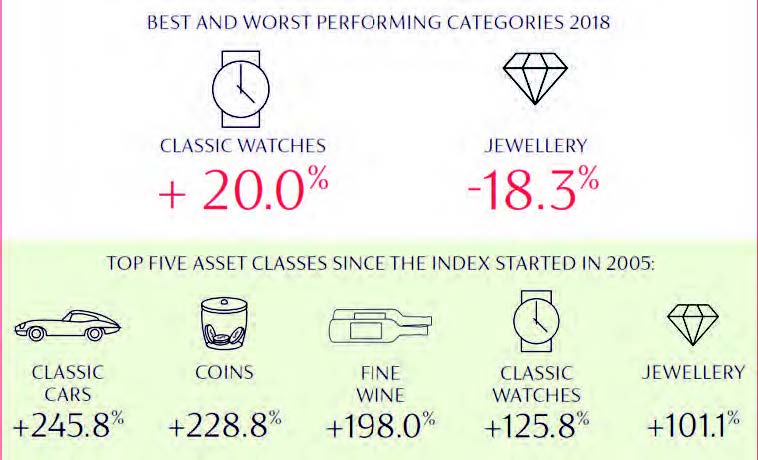 The Rolex Daytona, for example, has been produced since 1963, but it was only after it was worn by Paul Newman in 1972 that collectors acknowledged its scarcity and unique aesthetics; since then it has become arguably the most collected watch on the market. You should look at the brand even with contemporary watches; a good, established name will always hold its value.
However, we urge our clients to buy alternative assets for the joy they bring, rather than as potential investments. A diversified portfolio of conventional investment assets will deliver a more reliable return, providing a sound foundation from which to enjoy the finer things in life. There are risks and rewards with every investment we make, but informed decision-making with some sound horological knowledge about the collector's market should put you in a strong position when investing.
Note: When investing, past performance should not be taken as a guide to future performance. The value of investments, and the income from them, can go down as well as up, and you may not recover the amount of your original investment.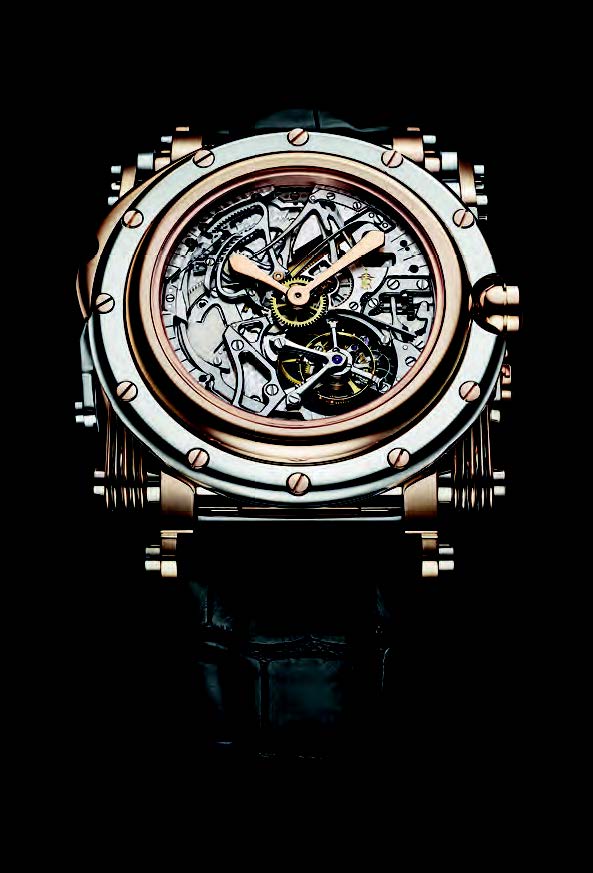 Anuj Arora started Sales Extraordinaire Ltd in March 2015 with 20 years of experience in UHNW client relationship management, having worked for Investment groups, luxu-ry Swiss watch and jewellery manufactures. He is based in London where he works closely with private investors, wealth man-agers and financial advisors. His in-depth knowledge of watches and jewellery allows him to provide a unique perspective on rare collectables; he can be reached through www.salesextraordinaire.co.uk or via email, [email protected].