Hand painted mugs for Spink's other close neighbour, the Foundling Museum, by Josie Firmin
Smallfilms – Children's favourites from the past feature on the Smallfilms range by Peter Firmin
Cosmo China – a close neighbour to Spink – is a bespoke bone china painting business that was founded in 1990 by Josie Firmin and Christopher Strangeways. Pri- or to this, they worked together at Northington Studios, just round the corner from our London shop in Cosmo Place. In the past, Cosmo China has hand-painted china in the studios and whole- saled to other shops around the UK. Today, it is a collective of 20 artists still hand painting bone china in our London and Canterbury studios
We use a traditional onglaze enamel style of china painting. All our china arrives in our studios white and glazed, then our talented artists paint their original designs onto the china before they go back into our onsite kiln. As all our pieces are produced in this way each one is unique and one-off; the hand-painted element means you will never see two identical pieces. We've been doing this for 32 years, and Cosmo China has changed and adapted in that time.
We have had so many brilliant artists painting for us over the years – too many to count! – lots of whom have gone on to have fantastic careers in a variety of creative industries. We now have 20 regular artists, four who paint in our studio in Canterbury and 16 who come into our London studio. Over the years Josie has done a fantastic job selecting artists to join our team, heading to degree shows, recruiting friends and family, and even customers. All our artists have their own definite style and we cover a great range of topics, meaning there is absolutely something for everyone.
The shop runs almost like a collective, the studio provides the china, the paints, the kiln, and the shelf space, and the artists receive a percentage of each piece that they sell. Running the studio in this way creates a relaxing, pressure- free atmosphere for our artists, they are in control of how often they come in, they can choose what they paint, and are constantly coming up with new exciting designs. There are no big looming quotas to fill so the artist can enjoy what they paint. We do however give our artists some guidance and do suggest things for them to paint. A great example of this is our recent success with our Queen Elizabeth II Platinum Jubilee range. We encouraged our artists to get involved and come up with bespoke designs for the celebration; it was great fun to see what they came up with, and gave our customers a fantastic range of pieces to choose from.  Each piece was part of a limited run, making them special and collectable items. With a little help from our bold window display, the range was super successful.
Another rarity that we stock at Cosmo China is our Smallfilms collection. Josie's father, Peter Firmin, along with Oliver Postgate, created Smallfilms in 1959 and they produced several very popular stop-motion animation programmes such as The Clangers, Noggin the Nog, Ivor the Engine and Bagpuss, which all became household names in the UK. Due to the family connection, we produce a range of china for each of these four programmes. The black outline is a transfer, created from Peter Firmin's original artwork, and we then hand colour each piece before they go back into our kiln. They are undoubtedly collector's pieces, even just for nostalgia.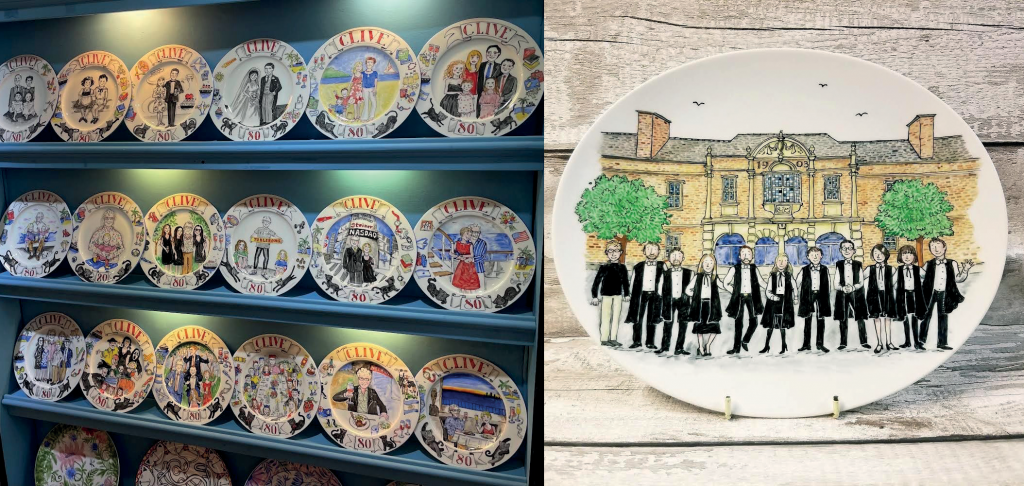 Personalised plate display by Josie Firmin
Personalised plate by Charlotte Firmin
We actually have four of the six Firmin sisters painting at Cosmo China – Josie, Katy, Emily and Charlotte, who also runs our second shop in Canterbury. We even stock cards by Hannah Firmin, making Cosmo China very much a family-run business!
32 years of china painting has made for some very interesting commissions and bespoke orders. As each piece we sell is hand painted and our entire process is done on site, we have the ability to personalise and create one-off pieces, especially for our customers. We have covered all sorts of themes, from commemorative birth and wedding plates to ice skating rats and saxophone-playing penguins. Although it is certainly hard to choose a favourite and equally hard to remember all the commissions, Josie replied as follows when asked to pick:
"Come Autumn, it's not surprising to get a phone call from the Foundling Museum requesting their annual gifts for benefactors and supporters. It's a joy to take a drawing trip to see the relevant exhibition, followed by a day of draughting ideas. Once happy with the design I get to hand paint mugs for an unbelievable group of people, including artists, poets and even royalty. This isn't the first time I've done mugs for museums; in 1995 I worked on a pair of mugs for the National Gallery shop and then one for the RA. After that, the British Museum commissioned me to do a bowl and mug for their gift shop. Although I love working directly with our customers, I am still in awe of these big commissions."
Charlotte recalls, "I painted some mugs for a couple who had walked to the North Pole together. She was a doctor and when she fell and dislocated her shoulder she was able to tell her boyfriend how to fix it. Then when they got there he proposed!"
She also remembers she had "a customer who was involved in legal cases involving smuggling and fraud. At the end of each trial, he would commission a plate for their barrister. This meant he had to tell me about the case and it was always a fascinating insight into another world."
Both our shops in London and Canterbury are tucked away in quiet streets, away from the hustle and bustle of busy high streets; Cosmo China is a peaceful, almost gallery-like space, with our china on display from top to bottom of the shops. We encourage our customers to take their time and browse as there are so many wonderful pieces to take in. Over the years we have gained some fantastic regular and loyal customers who have been coming back year after year.
This changed slightly in 2020 when, due to the lockdown, both our shops closed. However, that gave Cosmo China a great opportunity to adapt – with lots of extra time and sadly no customers, we were able to create our new website and launch our very first online shop in December 2020, helping to expand our customer base – we now ship our china all over the world.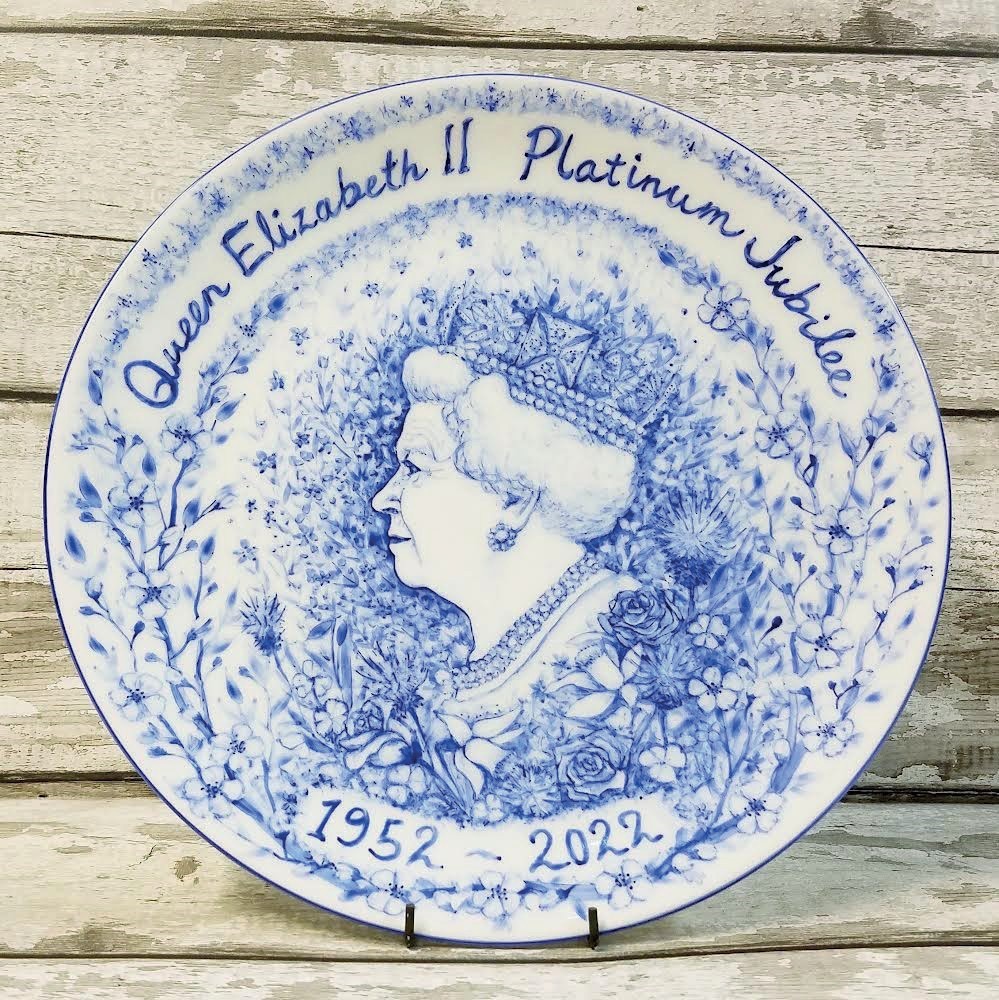 The combination of original pieces by our very talented artists, limited edition collections, nostalgic ranges and commemorative, bespoke commissions makes Cosmo China certain that our pieces will be antiques of the future, even if they only grow in sentimental value. We are excited to continue adapting and growing, and ready to keep painting, hopefully for another 32 years.