ORDERS, DECORATIONS and MEDALS
Victoria Cross Group, 'First Day of the Battle of the Somme'
On 21st July 2022 the Medal Department offered the exceptional and important 'First Day of the Battle of the Somme' Victoria Cross group of ten awarded to Drummer W Ritchie, 2nd Battalion Seaforth Highlanders, who was awarded his VC as the 'Bugler of Beaumont Hamel' on 1st July 1916 when, under a hail of machine-gun and bomb attacks, he selflessly mounted the parapet of an enemy trench and continually sounded the 'Charge' on his bugle to rally his comrades and inspire them into action on a day which saw a third of those same comrades fail to answer the Roll Call by the close of play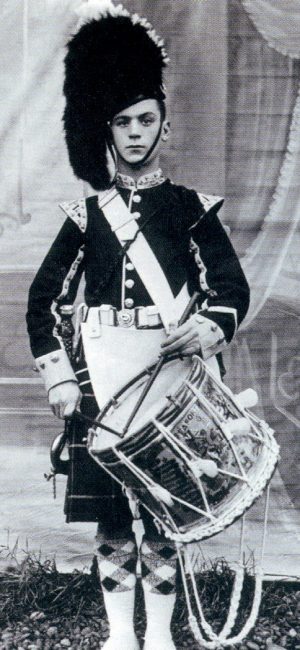 "by the end of the Great War he had been wounded in action on no less than five occasions and also added the Croix de Guerre to his laurels""
Ritchie was a career soldier who joined the Scottish Rifles whilst underage in 1908; he was no stranger to the crucible of action, having landed in France in August 1914 and had shared in the Battle for Mons – by the end of the Great War he had been wounded in action on no less than five occasions and also added the Croix de Guerre to his laurels.
The VC was exceptional as it is one of just nine awards for the First Day of the Battle of the Somme, 1st July 1916. That action was the most costly in the history of the British Army and any medallic awards for the action are always highly prized by collectors for the sheer scale, ferocity and human cost of the action
The VC awarded to Drummer Ritchie was the only award which remained outside a Museum Collection for his unit and was also one of just two awards for 1st July 1916 that remained outside a Museum Collection.
Bidding was furious and no less than six bidders competed online and on the telephones but it was finally sold to a room bidder for a stunning hammer price of £360,000 (including buyer's premium).
Scarf slipped away whilst in surgery but in the chaos of the Battle of Malaya – and eventual Fall of Singapore on 15 February 1942 – it would be over four years until his widow would be presented with the Victoria Cross by The King which her late husband had duly earned – his was truly the V.C. that represented the 'Forgotten War'.