THE "LUGANO" COLLECTION OF VENEZUELA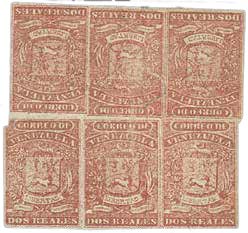 The first issue of Venezuela has, for over a century, been the target for the famous collectors of South American countries. Ferrari and Hubbarb are just two of the names that come immediately to mind. Spink is proud to have been trusted to offer the magnificent "Lugano" collection, its 47 lots containing the great rarities of this country.
Each item is fully illustrated in the catalogue, with the reverse sides of covers available from our website. Almost all lots are also offered with certificates of authenticity, mostly from the noted expert of South American Philately, the late Brian Moorehouse.
In the "Lugano" collection the owner has managed to unite the three major rarities of the country, the two errors of colour
and the tête-bêche block of six. These three are offered together with the 44 other selected lots, each one a rarity in its own right.
Here is a unique opportunity for even the most advanced collector of Venezuela to add to their collection; for a collector looking to form a new collection the possibilities are endless. In the current climate we predict an even stronger surge of interest in this area, making it an excellent choice for both the collector and investor alike.
The "Lugano" Collection of Venezuela will be offered for sale by Spink London, behind closed doors, on 29th April 2020. For further information please contact Dominic Savastano, [email protected].