THE REMARKABLE 1857-1861 ISSUE COVER ADDRESSED TO QUEEN VICTORIA
FROM THE DR EDWARD AND JOANNE DAUER COLLECTION
We are pleased to offer for sale in 2020 this beautiful 1860 (27 Aug) envelope from Concord in New Hampshire, America to "Victoria Queen, Great Britain" bearing 1857-1861 issue two 1c type V, two 3c type II and 10c type V pair + two single; a wonderful three colour franking. A quite exceptional combination of history and philatelic rarity, making this piece highly desirable.
During 1860 Queen Victoria was represented by Albert Edward, the Prince of Wales, in the undertaking of a royal tour of Canada. The Queen herself remained in the United Kingdom to attend to domestic affairs, this being a long voyage. From his arrival in St John's, Newfoundland on 2nd July, on to New Brunswick, Nova Scotia, Prince Edward Island, and finally the Province of Canada in August, the Prince was treated to gifts such as a Newfoundland dog and thrown grand balls, the likes of which constituted what would now be termed a true 'royal reception'. In fact, the Prince's tour would set the tone and format for all royal visits to come. The Prince of Wales would also go on to visit America at points on his visit.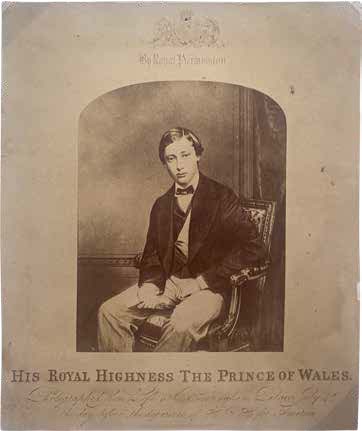 This extraordinary cover addressed to Queen Victoria harkens back to this important royal visit. It is possible that the contents, no longer present, reported details of the Prince of Wales' progress to the Queen.
This remarkable item will be offered for sale by Spink London during the latter half of 2020. For further information please contact Tom Fell, [email protected].