Commemorating the Battle of Waterloo, 205 Years On
Waterloo Medal, Lt-Gen Sir Charles Colville GCB GCH (1770 – 1843)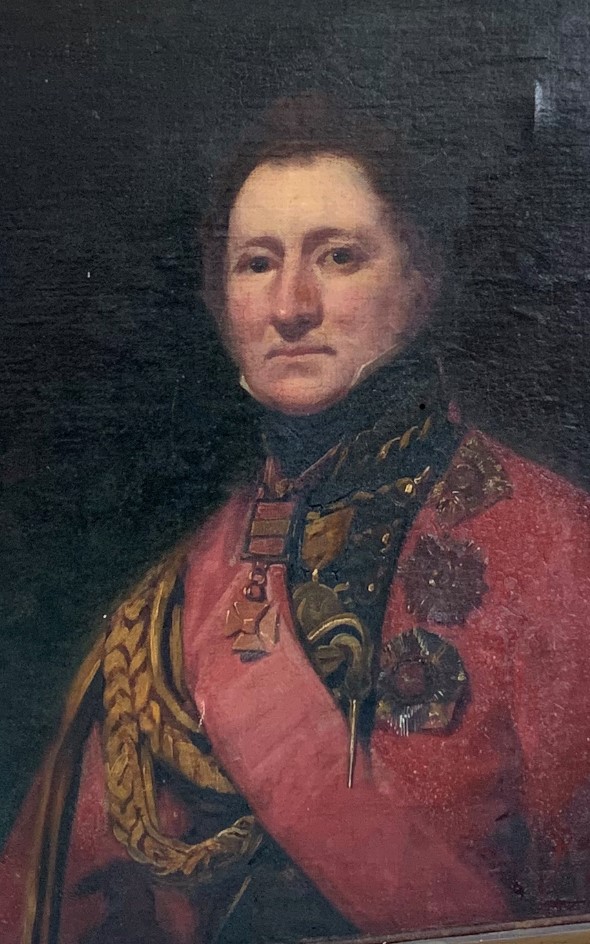 The Waterloo Medal seen here and awarded to Lieutenant-General the Hon. Sir Charles Colville represents one of only six Waterloo medals awarded to British Lieutenant-Generals. Colville had a long and distinguished military career, commencing in the West Indies in the 1790's followed by Egypt in 1801 then the Peninsular War; he played a prominent part in the sieges of Ciudad Rodrigo and Badajoz (in January & April 1812 respectively), being wounded at the latter during the final assault.
Though present during the Waterloo campaign, Colville's role as general commanding a reserve
formation meant that he missed the battle itself as his forces were positioned too far away to be of assistance to the Duke of Wellington on that fateful day 18th June 1815. However, Colville's Division later spearheaded the Allied advance into France and he personally supervised the capture of the French-held fortress at Cambrai with the loss of only a handful of men.
In later life Colville went on to become Commander-in-Chief of the Bombay Army and Governor of Mauritius before retiring to London, where he died in 1843.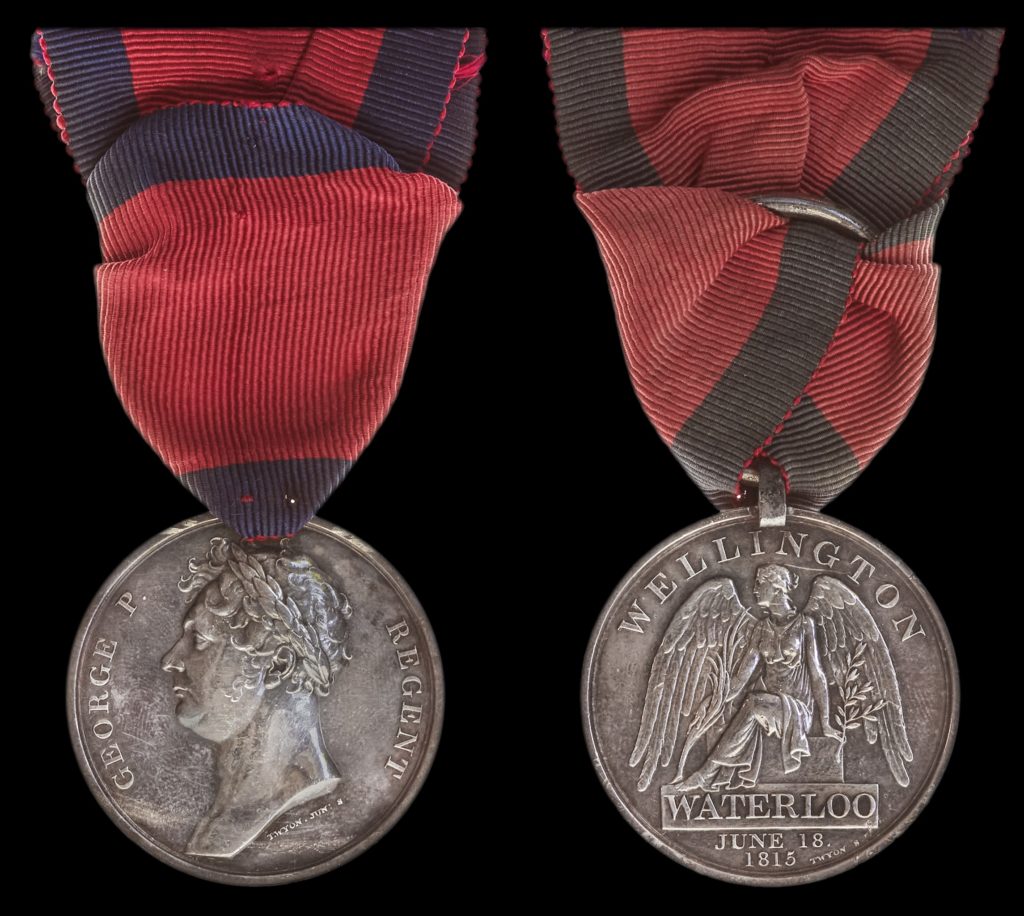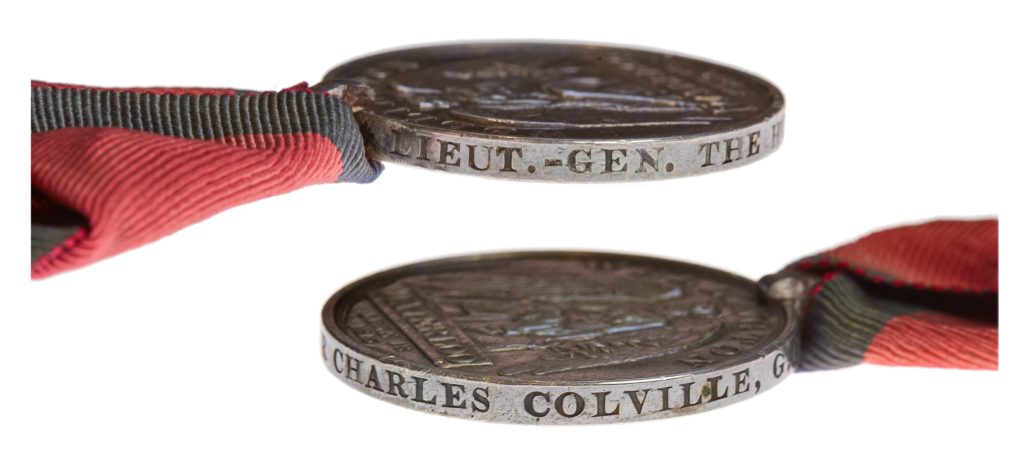 Painting, Maj-Gen Sir Denis Pack KCB (1772 – 1823)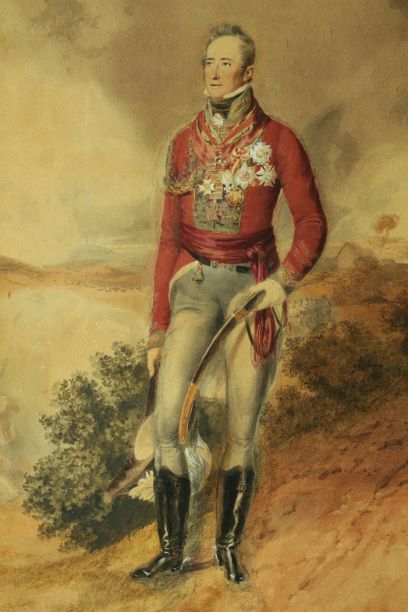 This painting, by renowned Georgian artist Thomas Heaphy, is a superb depiction of Major-General Sir Denis Pack KCB in his Full Dress uniform wearing his Orders, Decorations and Medals – these being the Order of the Bath, Order of the Tower & Sword, Order of St. Vladimir, Order of Maria Theresa; additionally his Waterloo Medal and a seven-clasp Army Gold Cross. Interestingly only two 7-clasp AGC's were ever awarded (the other being presented to Marshal Beresford, Commander-in-Chief of the Portuguese Army) and only the Duke of Wellington himself had a Cross with more than seven clasps.
In 2003 Spink were honoured to be approached to sell Pack's Orders, Decorations and Medals and these achieved the magnificent total of £100,000 at auction. Pack served with great distinction throughout the whole Peninsular War and commanded a Brigade at the Battle of Waterloo; his immediate superior (the Welsh General Sir Thomas Picton) was killed at the head of his Division as they repelled a French attack. Pack survived the battle of Waterloo and went on to become Lieutenant-Governor of Plymouth, though he died in 1823 at the early age of 51.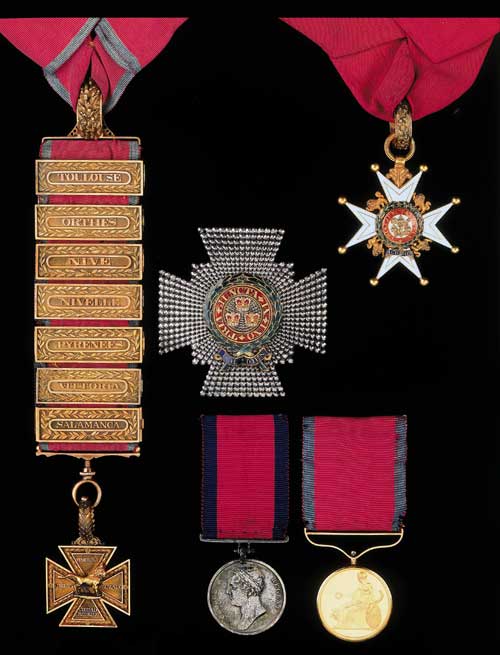 Military General Service Medal, 1 clasp, Nive, Pte. Thomas Fowlis (Fowles), 3rd Battalion 1st Foot Guards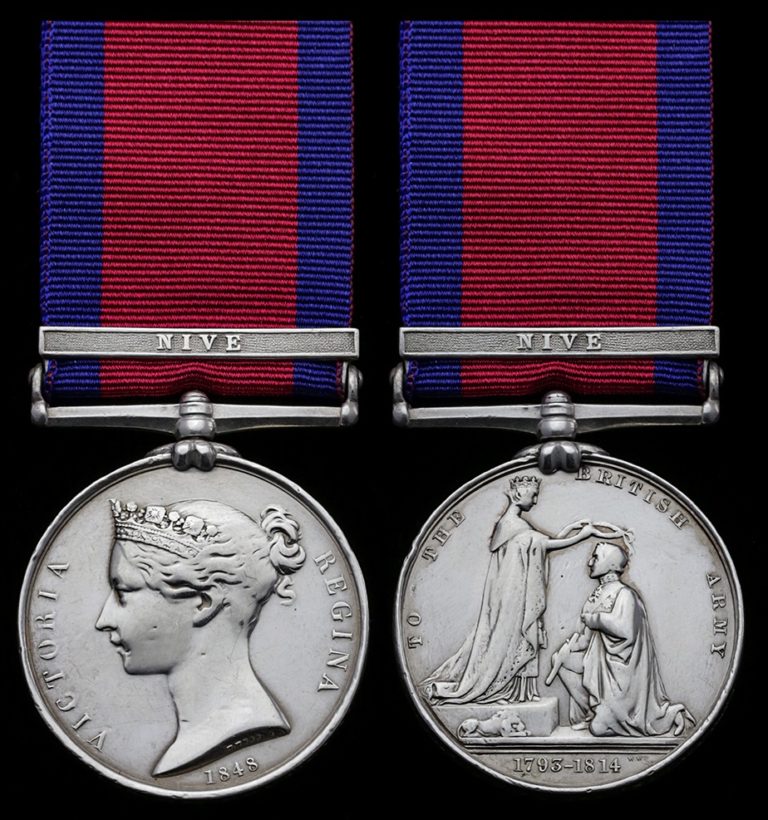 Private Thomas Fowles served in the British Army from 1813 – 1835 in one of the most prestigious infantry regiments in the British Army: the 1st Foot Guards. Additionally he was a member of the 3rd Battalion's Light Company, and in this capacity (whilst under the command of Captain the Lord Saltoun) played a part in the famous defence of the Chateau of Hougoumont during the Battle of Waterloo. Hougoumont was a crucial part of Wellington's defensive line and Napoleon's forces tried time after time to capture it with seemingly overwhelming numbers – however, time after time they were defeated and repulsed with heavy loss. Fowles survived the battle, in later life becoming an Out-Pensioner at the Royal Chelsea Hospital and,
at the time of his death in 1875, was employed as a Watchman with the Honourable Artillery Company.
Although this medal relates to Fowles's pre-Waterloo service in the Peninsular War, this is one of only 17 single-clasps 'Nive' to the Regiment – and of this number only five were awarded to the Light Company. He was additionally entitled to the Waterloo Medal.
Fowles's Military General Service Medal forms part of a small but extremely good collection of early 19thC. medals which will be offered for sale in our July auction of Orders, Decorations and Medals.