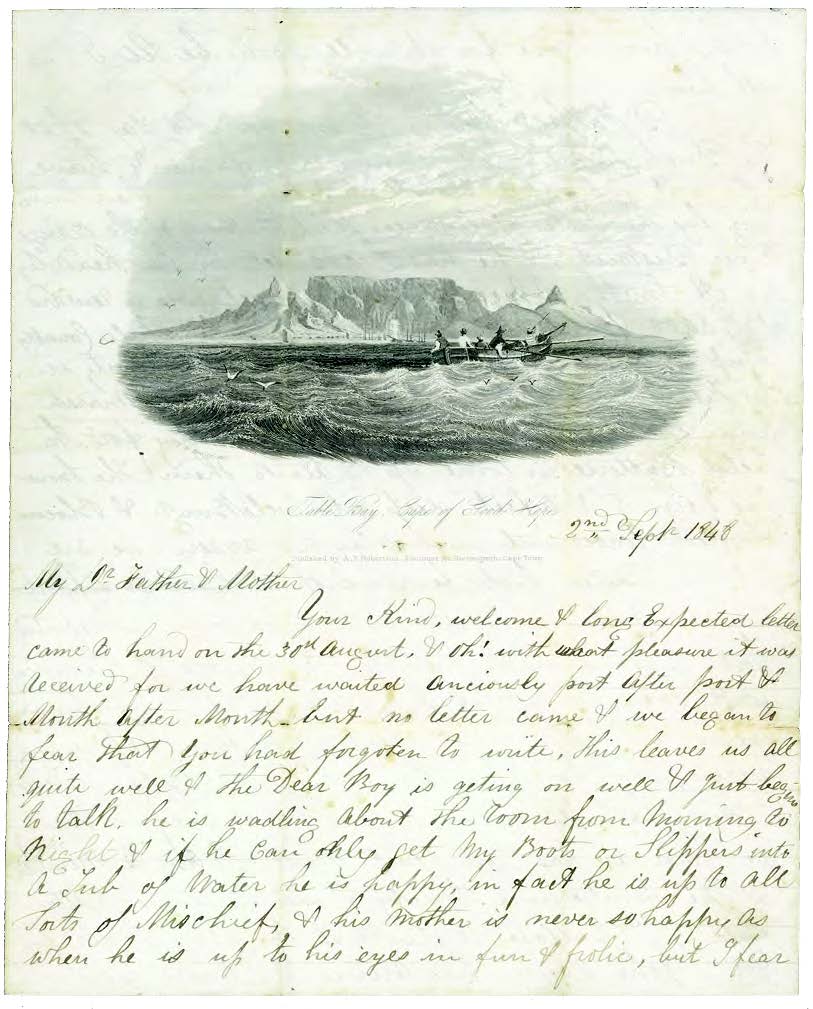 In 1974 Robson Lowe published an illustrated monogram on this correspondence to commem-orate his visit to the National Philatelic Exhibi-tion held in Pretoria. The collection was sold privately at the time, and 46 years later it has resurfaced, intact, to be offered in the October Stamps & Covers of Southern Africa auction.
The small archive of 34 letters, with 17 having address panels, is rich in historical content and postal history, showing how soldiers were able to write home at a special concessionary rate – provided the address panel was suitably endorsed by the commanding officer. Sadly, four entires have had their Cape triangular stamps removed.
Golding served with the Royal Warwickshire Regiment and later with the Cape Mounted Regiment of Riflemen. The military and political situation on the Eastern Cape frontier was tense. Golding arrived in Cape Town in 1846 and he refers to various attacks as his regiment moved to British Kaffraria.
On 2nd September 1848 Golding wrote to his father in law "John Bartlett, Carpenter, Next the Bugle Inn, Gosford Street, Coventry" on illustrated printed notepaper depicting Table Bay. The outer wrapper is endorsed by Golding, giving his rank and regiment, and suitably countersigned for the penny soldiers' rate to England. The headed notepaper is rare, based on an engraving by TW Bowler, one of the most prominent artists of the Cape at the time, whose work today is amongst the most desirable of all Cape Colonial artists.
Golding temporarily resigned from the Army to become a policeman. By this time he had a young son. After opening a school he rejoined the forces with the rank of Trooper Sergeant and was based in Graham's Town. In his letters home he writes "Dutch Boers are all but in open rebellion on the other side of the Vaal River", talks of "the slaughter of his troops in the Amatola Mountains", "chasing the enemy for 8 nights and 9 days over a country covered with bush, rocks and rivers". He writes of the 1851 Christmas Day massacre, how a ball went through the top of his cap and other hardships, aside from losing both his son and wife. There are numerous references to Sir Harry Smith, Governor of the Cape, the Black tribal leaders and their fate, and the attempts to subjugate the local tribes as peace and stability were sought by the Colonial authorities.
This is a rare opportunity to acquire a correspondence of this nature intact, as so often these items are dispersed over time. Estimate £8-10,000.
Stamps & Covers of Southern Africa will take place on 14th Oc-tober 2020. For further infor-mation please contact Tom Fell, [email protected]. For further in-formation on Thomas Golding's letters please contact Ian Shapiro, [email protected].