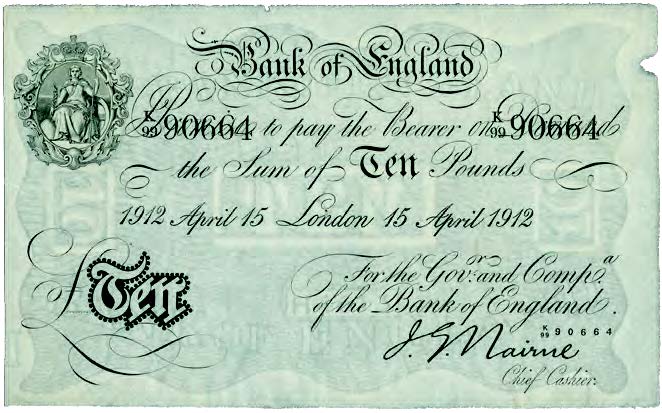 The banknote department will be starting its autumn auctions with an offering of the Mark T Ray Collection of English Banknotes. Mark has been a collector for over 30 years and when studying the collection it is easy to see Mark's passion for the subject. From the many notes that will be on offer, one of Mark's favourites is the Bank of England, JG Nairne £10, issued on 15th April 1912 – the day after the RMS Titanic struck an iceberg. Another favourite of Mark's is a Bank of England, Abraham Newland £2 of 1800. As a bonus included with this lot, there is an original Bank of England envelope dated 1870 confirming that this note was unpaid in the Bank ledger. Only two other examples of this note are believed extant at the time of cataloguing.
Another highlight from the auction is a Treasury Series 'Admiralty Anchor' £1 from 1918. During World War I there was substantial sales of British and American currency in neutral countries from associates of the Central powers. This caused great concern to the Allies, and so in order to keep track of the coming and goings of the notes, a small anchor was incorporated into the reverse design of the £1 notes. To date only a few examples are believed extant, and are extremely difficult to find in good grades.
We hope collectors enjoy this collection, and the best of luck to Mark!
The Mark T Ray Collection of English Banknotes will be offered for sale by Spink London on 8th October 2020. For further information please contact Barnaby Faull, [email protected].