Followers of the auctions at Spink & Son will likely already be well versed in a certain amount of whisky lore – no strangers to the intricate beauties of rare bottles of Scotch, Irish, American or Japanese, often witnessing the hammer coming down on some truly extravagant prices. The winds of change never cease blowing, though – and a new way to interact with Scotch Whisky is appearing over the horizon. Full casks of still maturing whisky are making their debut at auction. Buying a whole cask of whisky is quite a large step up from buying even the fanciest of bottles. The most avid whisky lovers rarely make that step – and until recently casks have been something for the industry to handle, not enthusiastic amateurs. 
I say 'until recently', because since inception we at Cask 88 have made it our mission to provide that opportunity to the most dedicated fans of Scotch; to become an indispensable part of the story of their favourite whisky. We're excited to be working with Spink to expand the reach of our chosen oeuvre to auction houses. 
We understand that it can be quite an intimidating proposition. Casks are large, filled with more whisky than one could comfortably drink in a half-decade, and are safely stored in secure facilities that are out of the way and difficult to visit. And while it's true that cask whisky gains value through maturation, and flavours ripen and develop over the cask's life, the buying-in cost for owning even a young cask is not cheap. So let me take you on a journey from Cask to Glass, and throw some light on why ownership of an oak cask, brimming with whisky, may be for you.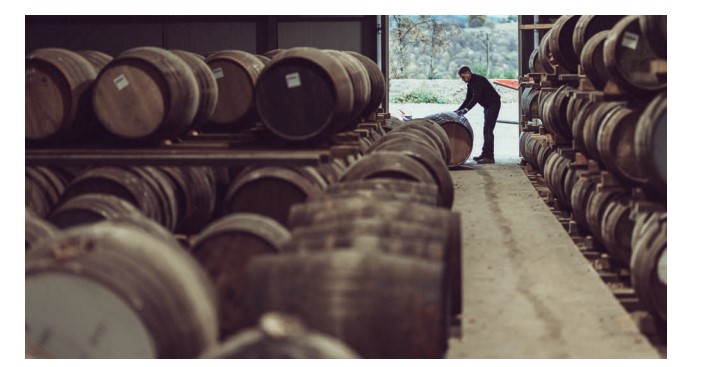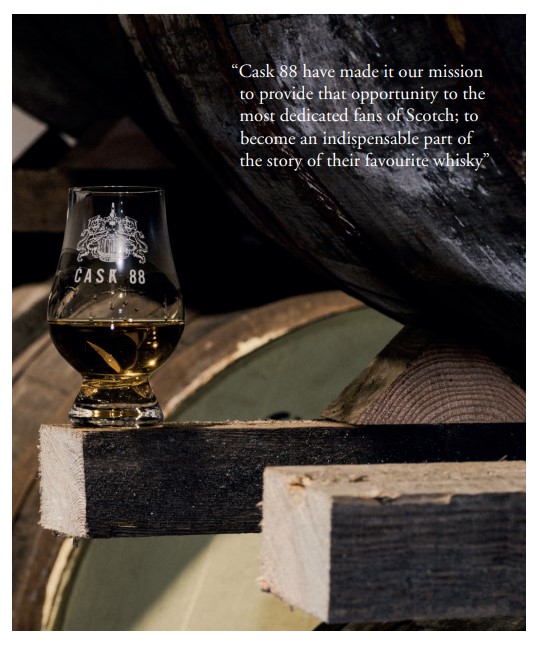 Control to you 
When it comes to purchasing Scotch Whisky in the bottle, there's a way to express yourself through your choice of distillery, the style of the whisky or the aesthetics of how the bottle looks 'pon yon mantle. However, a cask lets you become far more intimately involved in the curation of your whisky as it matures. The first and most important choice is that of which distillery you favour. Do you go for a whisky made somewhere with prestige and star power, or perhaps the distillery that may not be a household name now, but you know and love the individual way they make their spirit. Maybe the one you remember fondly from that trip you made to the Highlands a decade ago? The age of the whisky is the next consideration. You can buy young, before the spirit has properly discovered what it wants to be, or you can buy older, when the whisky has already spent time mellowing and enriching its flavours in the cask, and has demonstrated the kind of whisky it intends to be. The advantage of buying young is a more accessible price, though this is offset by the amount of patience needed to wait another 5, 10, 25 years until you deem your whisky ready to drink.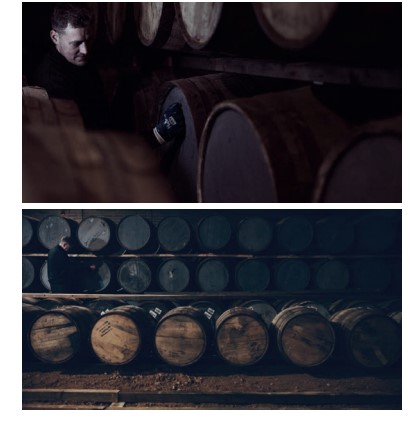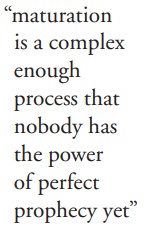 Cask Management 
There are many shapes, sizes and types of cask, each imparting flavours differently and resulting in different styles of whisky. Rare cask types may add considerable value to a whisky – but the cask you first find your whisky in isn't necessarily its fate. Around 97% of Scotch whisky will spend time maturing in an ex-bourbon Hogshead – a white oak cask that matured a bourbon whiskey once, was deconstructed and shipped to Scotland- still redolent with the iconic bourbon flavours and now ready to lend those flavours to a maturing Scotch whisky.
While this is the classic way to mature a whisky these days, the ex-bourbon hoggie is not the only option. Many whiskies are selected for a 're-rack'. Ordering a re-rack allows you to move the liquid from the cask it inhabits into a different cask. This might be to refresh its flavours, change its character, or experiment with something new. Ex-sherry casks are commonly used, but you'll also find casks that formerly contained wine, dessert wine, port, madeira, beer and even calvados. Each of these cask types has different effects on the whisky inside which are somewhat predictable, though maturation is a complex enough process that nobody has the power of perfect prophecy yet!
Safety in Scrutiny 
Whisky in the cask is an unusual substance. Far from inert, it changes over time – and the amount of alcohol that is present in the spirit at the start of its life will slowly ebb away over the years. Since alcohol tax is significant in the UK, those who bottle whisky have an agreement with the authorities. Whisky is duty-suspended until the point of bottling, with tax only needing to be paid on the strength of the alcohol after its maturation is deemed to be complete. This system requires that Scotch whisky spends its entire maturation in an HMRC bonded warehouse, kept under close scrutiny to ensure that the period of alcohol tax suspension is not abused. Since the cask is so closely tracked and scrutinised over the course of its maturation; a cask of whisky is nigh impossible to forge.
Note: this means that when you choose to bottle your whisky, the duty payments will become due – they can be calculated by the literage of pure alcohol in your cask at the time of disgorging.
A maturation warehouse is not a simple setup. In addition to the requirements that the warehouse is HMRC compliant, fully licensed and staffed, it also needs to be an appropriate place to mature whisky. This used to be a big obstacle in the path of private cask ownership, but it's an obstacle that can be navigated, with the assistance of Cask 88. When you purchase a cask with Spink, we act as your cask's custodian through its maturation. Cask 88 are exclusively leasing a dunnage warehouse in Craigellachie, Speyside, where casks are safely stored in the traditional way to mature.

The cask will be held in your name, while we take care that it satisfies its legal obligations and is stored safely. We offer the first three years of insurance and maintenance costs for free, and for £65 per year thereafter. You can have the peace of mind that your cask is well looked-after – and you can arrange for a sample to be drawn, or even make a visit yourself.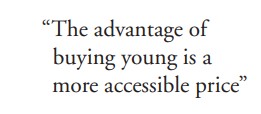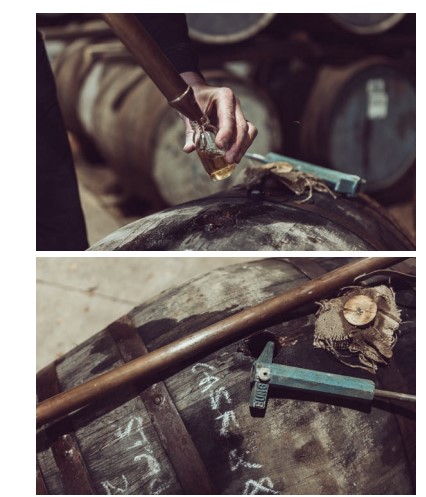 Who Buys Casks? 
A whole cask can produce 200 or more bottles of unique whisky. Too much, perhaps, for one person, but something magnificent when shared. A wedding, a momentous birthday, a spectacular business event, or private bottles for your own business – any of these can provide an appreciative audience for exclusive whisky. Let me share examples of three very different people who have bought a cask from Cask 88:
Gao: Teaninich 2018. Ex-Bourbon Hogshead A Hong Kong-based lawyer, Gao bought his first cask to celebrate the birth of his first child in 2018. His son will be gifted the 18-year-old cask on his 18th birthday, after both have gone through a considerable maturation. 
Amy Seton: Caol Ila 2014. Ex-Sauternes Hogshead Founder of the Birmingham Whisky Club, Amy has run whisky tastings at her bar in the jewellery quarter since 2018. She got her cask of Caol Ila to ensure that her bar was always able to serve a whisky that was exactly chosen to match her tastes. 
Aaron Milligan: Glenallachie 2015. ExBourbon Hogshead (planned re-rack into Hungarian wine) Aaron left his native Fife to settle in Australia, and found to his delight that whisky connoisseurship is strong Down Under. He hopes to become an independent bottler, and showcase more whiskies from his distant home to people who are more used to drinking Australian whiskies. 
These three buyers all went for casks that were relatively young, in whisky terms. They had the time to wait (18 years in Gao's case!) and were willing to let the whisky quietly take its time before finding its final form in bottles several years later. 
If you have the patience to wait, a younger cask now will become a rich and potent mature cask in the fullness of time. A plan made now can reap ample rewards in the future.

Going the Whole Hogshead - Spink in association with Cask 88
Whisky e-Auction