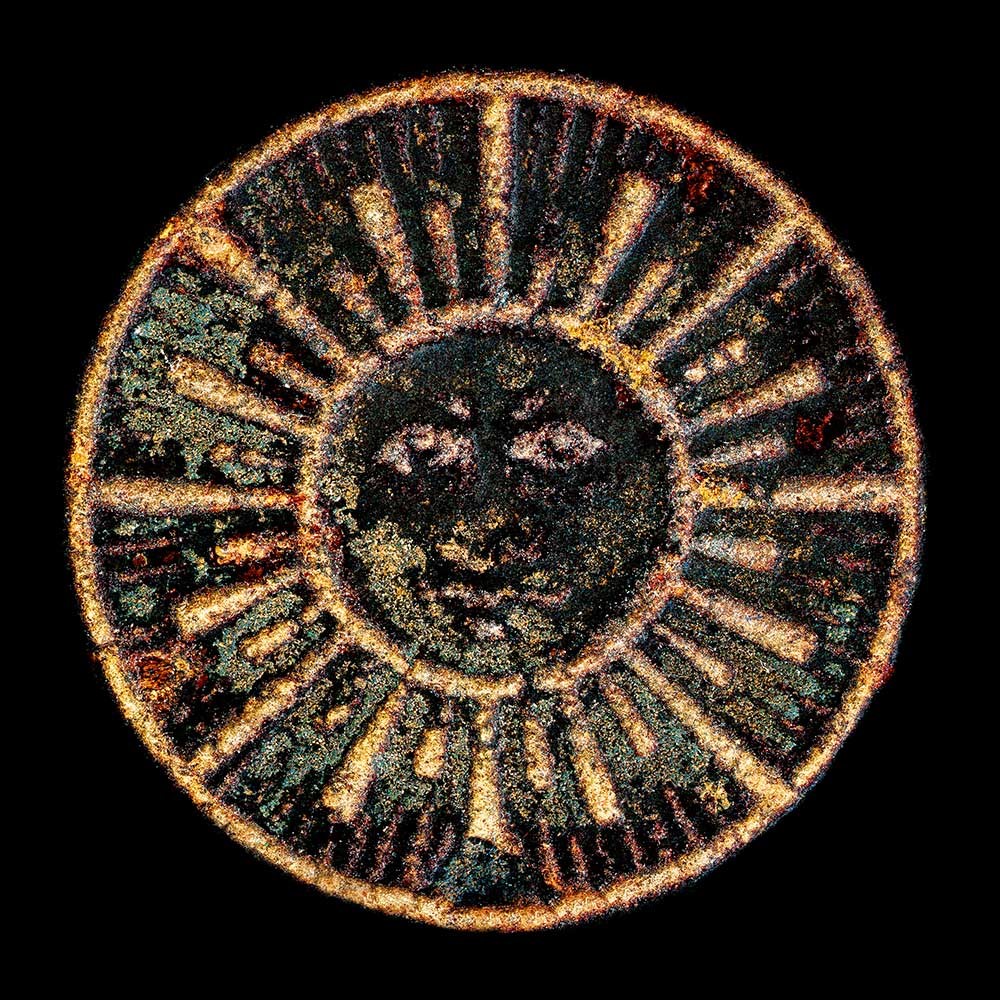 Stephen Sack is an American artist living and working in Brussels since 1977. He has exhibited widely in Europe and America including such museums as The British Museum, Rijksmuseum van Oudheden, Leiden, Museum August Kesner, Hannover, Musée Art et Histoire, Brussels, Chateau Museé, Dieppe, Palais des Beaux-Arts, Brussels, Museum of Contemporary Art (M HKA), Antwerp, Musée Carnavalet, Paris, Musée d'Art Modern de Paris and The National Archaeology Museum of Lisbon. The Insider caught up with him recently to find out a little more about his past and future projects:
This sample from all 13 'chapters' of my coin-based works since 1983 presents another way of looking at coins. This vision obviously comes from another place, somewhere from the corners of my imagination where magic is real, and so are these coins!
Coins and imagination take us everywhere. Today's science is often yesterday's science fiction and sometimes the edges get blurred. I love the story of the NASA Mars probe Curiosity: a much-loved US Lincoln penny was attached to the probe to calibrate the camera, a sought-after 1909 first issue with the initials VDB of its designer Victor David Brenner. Future aliens investigating the long-gone human race might be confused, believing that humans had the technical sophistication to land on Mars in 1909! Fiction and Reality – imagination and perception – can be strange bedfellows.
I particularly enjoy collaborations between Art and Academia of every kind, but my images represent a radical departure from traditional coin photography. The choice to photograph corroded and often worthless coins comes from the artist's desire to transcend into a dream-like world of images. Lost, buried and resurrected, the coins carry the memory of their existence through the transmutating process of decay through the alchemy of Earth and Time. Whereas the archaeologist's and historian's roles are to give scholarly interpretations of artefacts and events, mine is to sift through the detritus of history finding rich aesthetic possibilities and symbolic significances. The beauty of the images no longer resides in the art of the coin's maker, or in its historic or monetary value, but in its profound aesthetic, poetic and mystical beauty.
In the last 40 years, I have created a wide range of coin based-works. Through this unique vision, fed by passion and perseverance, I have been led to explore and collaborate with many museums and private collections, not least my landmark exhibition at the British Museum which brought me international recognition.
These diverse series explore some 13 distinct topics. Using scientific lights to reveal the true colours of the patina and corrosion, the images glow with a surprising life as they appear to us in a dream, quasi-magical in their nature.
The first images date from 1985, winning me the national art prize at the Fine Arts Museum BOZAR in Brussels. Already the cosmic relation of coin dust and stars had made their presence known. These black and white photographs were of modern coins.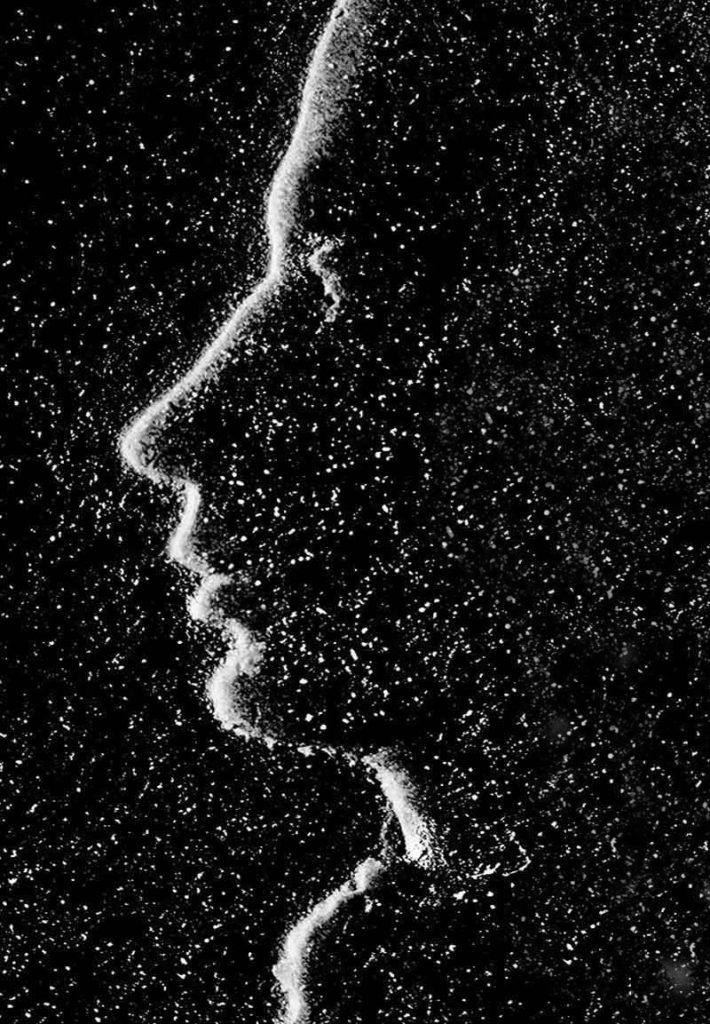 Some 14 years later I returned to coins with a new series of images of ancient coins, now in colour, and created the Metal Mirror exhibition in collaboration with the British Museum.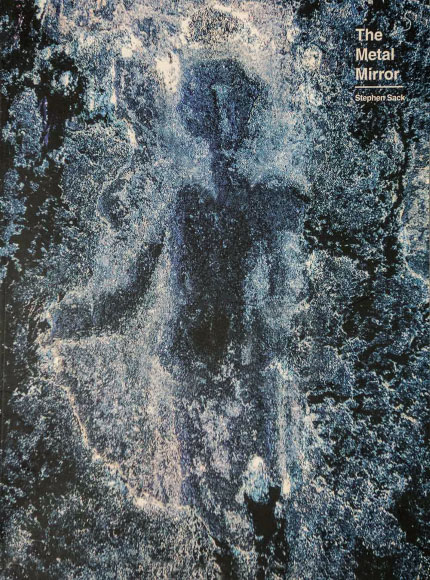 14 years later I was able to return to the BM to phototgraph a deposit of Roman coins, sacrificial offerings recovered from the shrine dedicated to the Goddess Coventina on Hadrian's Wall.
These collaborations led to ten new series of numismatically-inspired images.
Psyché - round coins seen as black mirrors of the unconscious
Angels Don't Wear Shoes: Images of religious medals lost by pilgrims
Todays Euro coins recuperated from the fires of the incinerator
Euro Masks - The final part of the Euro meltdown: the coins become masks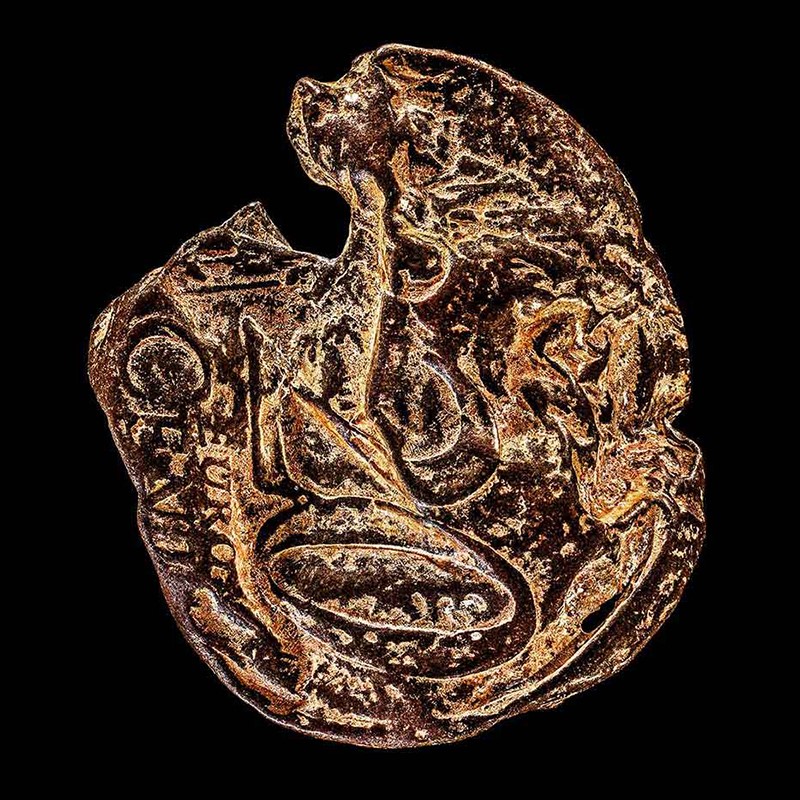 Embracing Emptiness - Ancient Chinese Coins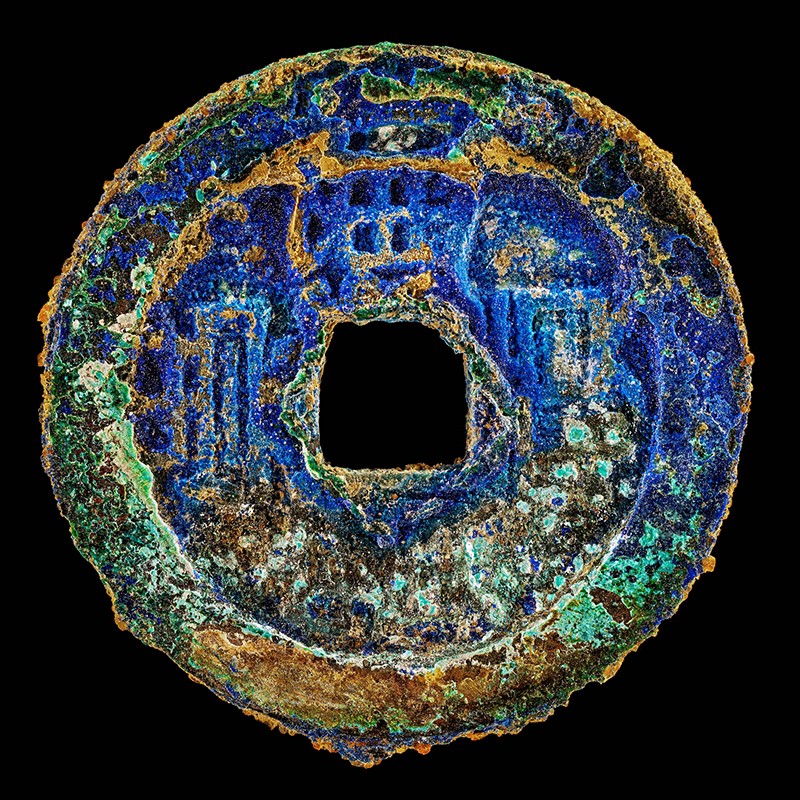 Ghost Faces - bronze copies of cowry shells
Mediums of X-changes - miniature currency crosses of Katanga
Exo-planets - coins seen as planets circling other stars
Coin Dust, capturing the cosmic residue of lost coin worlds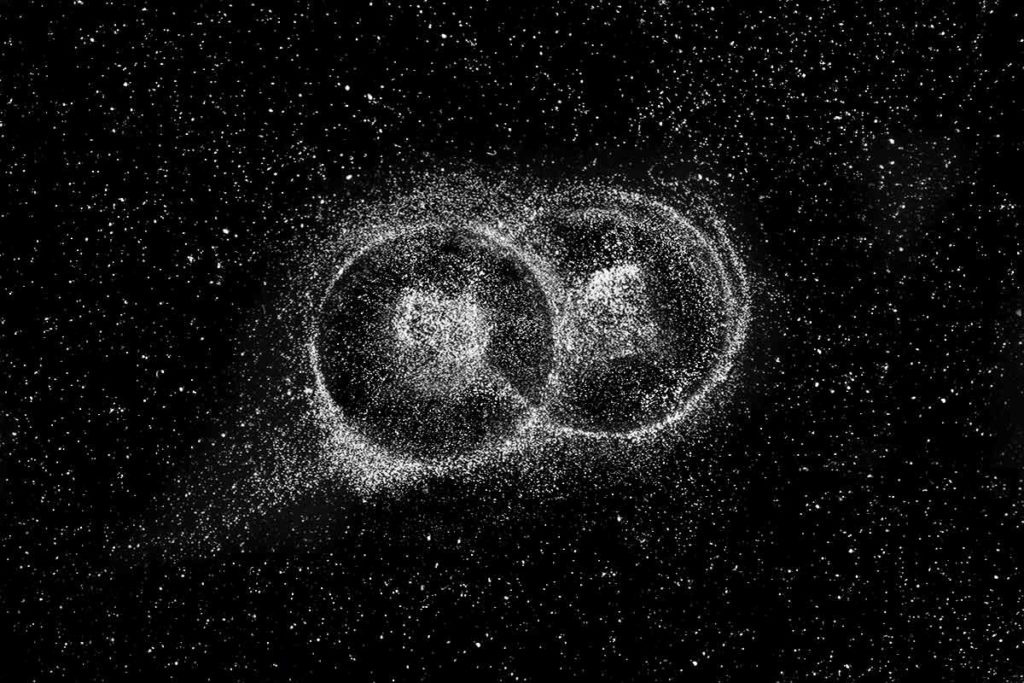 Monumental Miniatures: portable sculptures with Euro coins from incinerator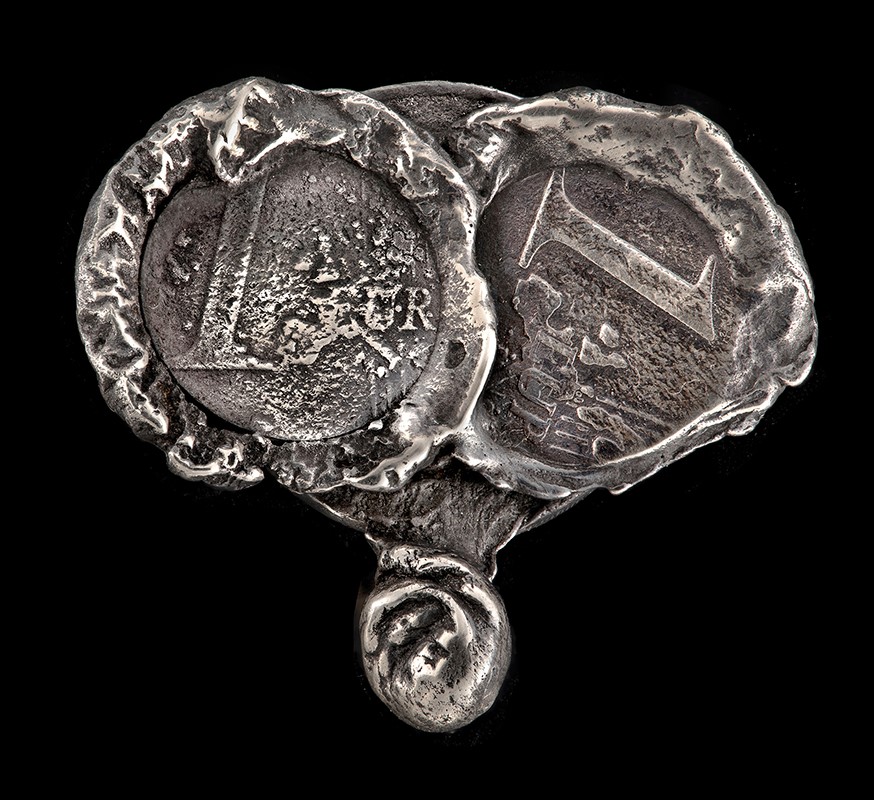 I continue my collaborations with museums and editors to photographically explore their collections and create new works and exhibitions.
Some examples:
Greek and Roman Coins from the Du Chastel Collection Coin Cabinet of the Royal Library of Belgium - François de Callataÿ and Johan van Heesch - Spink 1999
Studies in Honor of Johan van Heesch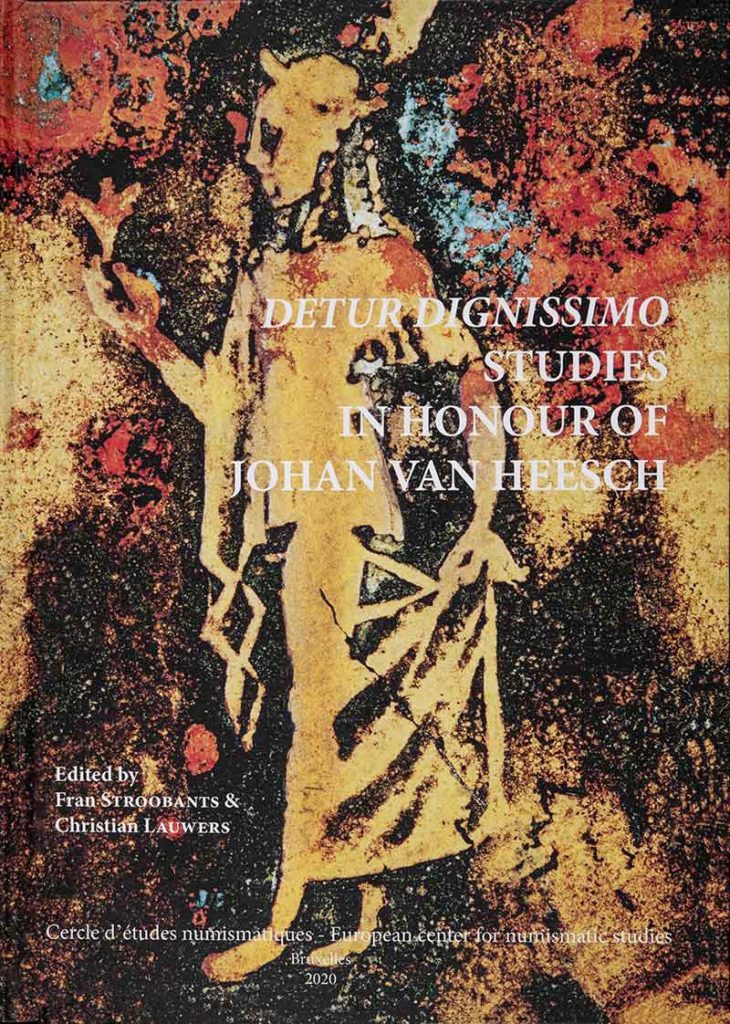 Soul of the Gem - Commissioned exhibition of 15 Gemstones, Rijksmuseum Leiden
Coins from the Ernest Vautier Collection: seen as lost Roman paintings.
Exposition and book; Association du Patrimoine Artistique – Brussels.
Texts – Pierre Loze, Dominique Vautier, Delphine Tonglet – May 2021.