As an antidote to the current trend for digital art and NFTs, during December we will be showcasing two young artists in the Spink gallery, both working in very different mediums but equally as talented. Their work will be available for purchase via Spink, with commissions available by arrangement. The Insider caught up with Saskia and Issy to ask them a few questions about their work and the inspiration behind it: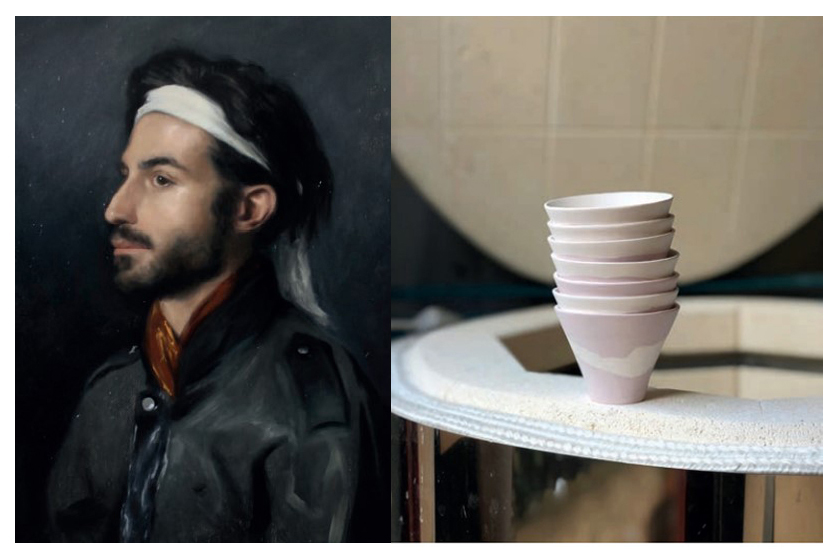 Issy Gibbs studied at the Charles H Cecil Studios in Florence, Italy, where she spent four years learning from Charles and his studio. She received training in the 'sightsize' technique, which was applied in both portraiture and figurative art. Broadly, this can be understood as a process whereby the canvas remains alongside the sitter, allowing the artist to achieve life-size and life-like portraits. This pre-eminent technique was developed and perfected by masters such as Diego Velazquez, Van Dyk, Reynolds, Gainsborough, Whistler, Thomas Lawrence and John Singer Sargent and is thought to have died out when photography and Post Impressionism came about, as it became considered 'old fashioned'. 

Issy believes that it is important to keep this way of painting alive, as it is not just painting what you see, but a timehonoured process which requires time and dedication to your materials and subject. Sitting for the artist can be quite personal and intensive, spending undisturbed time together over many sittings to create the portrait. It is very much a journey with the painting as well as with the person.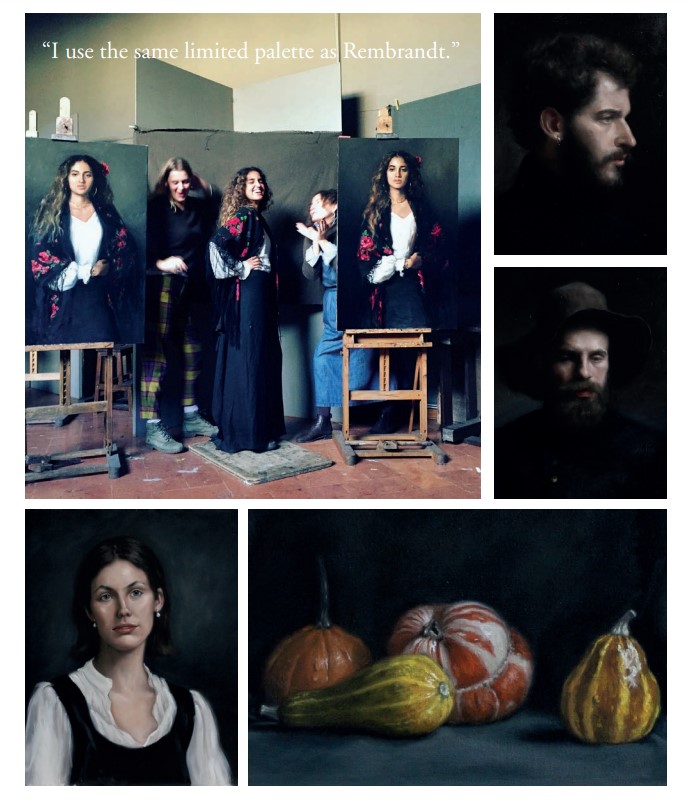 How did you start your journey in painting?

 I developed my interest in art, particularly in painting, when I was studying for my GCSEs, with Art becoming my main focus at A level. After school I had a strong desire to live and study abroad, and heard about this fantastic Atelier in Florence specialising in portrait painting and figurative art, where I was lucky enough to get a place. I spent four year at the Charles H Cecil Studios, learning from Charles and his studio, painting and drawing from life using 'sight-size' technique.
Where do you find inspiration for a new piece of work?
I constantly take reference from books on artists in my studio, mainly John Singer Sargent, Joshua Reynolds and Diego Velázquez. I look for design ideas, the light and pose setup, and colours they use together. I also try to follow my instinct as much as possible; however it involves a lot of trial and error. 
                                                       What are the difficulties and benefits of working in oils? 
I love working in oils as they allow me to keep working on a painting for a long period of time. I use the same limited palette as Rembrandt. I make some of my oil paints, using pigment mixed with linseed oil; this allows me to create a consistency I like and contains less preservatives than in some pre-made paints.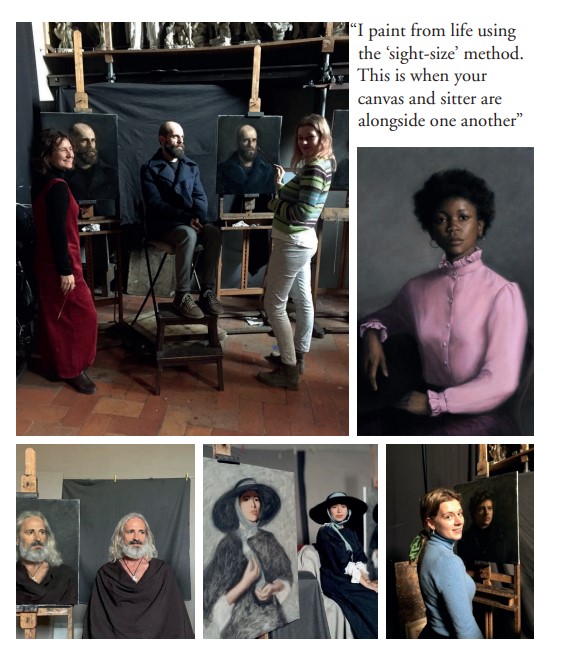 Do you prefer the process of working 'en plein air' or in a studio?
 I really enjoy painting plein air – it's definitely a challenge as you're forever chasing the light. However, I prefer painting my studio where I can control the light and have lots of space to work. 
Where have you exhibited recently? Where can our audience find your work? 
I exhibited with the Charlie Waller Memorial Trust, Newbury, in 2018, was included in the Hampstead Art Society annual exhibition at the Fitzrovia Gallery in London earlier this year, and exhibited a piece in ING Discerning Eye Exhibition at the Mall Gallery this November. I was also a finalist for 'Future Generation Competition' 2021 by the Portrait Society of America. I am based in Chelsea Studios in London where I work on various projects and commissions, and can be contacted via my website, www.issygibbsart.co.uk, where visitors can have a deep dive into my journey and see my work collectively. I post my most recent works on my Art instagram page, issygibbs_art.
Saskia Rigby has exhibited alongside Vigour and Skills Ltd at Anthropologie on the Kings Road for London Craft Week. Her work was exhibited in Japan this year, and you can find a selection of pieces available to buy from World of Wedgwood, Curated Makers Ltd, Olwin Home and Myrtle, Fox and Maude.

 How did you start your journey in ceramics? 
I come from a creative family and was always encouraged to explore that side of my personality. Visiting art galleries, museums and old churches meant that sculpture, drawing and painting were introduced to me from an early age; and I spent a lot of time as a child making and creating objects, usually out of paper. Later on, drawn by the 3D aspect and the textual qualities of clay, I remember having a fascination with how ceramic pieces were made, in particular slip cast objects and how the materials worked. However, it wasn't until I started my foundation course that I started experimenting with clay: raku was particularly exciting as we had to do it on the college roof owing to the firing process (lots of smoke). Subsequently, intrigued by its whiteness and translucency I started experimenting with porcelain and china.
                                                                What inspires the design of your ceramics? 
When I was at Manchester School of Art, I began exploring the textures and colours suggested by coastlines and the landscapes of Scotland. Since developing my original collection – Coast – I have gone on to explore mark making, and creating a coherent colour palette. As my forms and colours ways are a response to natural forms ,I'm making discoveries all the time and so the designs of my pieces are constantly evolving and that is something that excites me as well as being an ongoing challenge.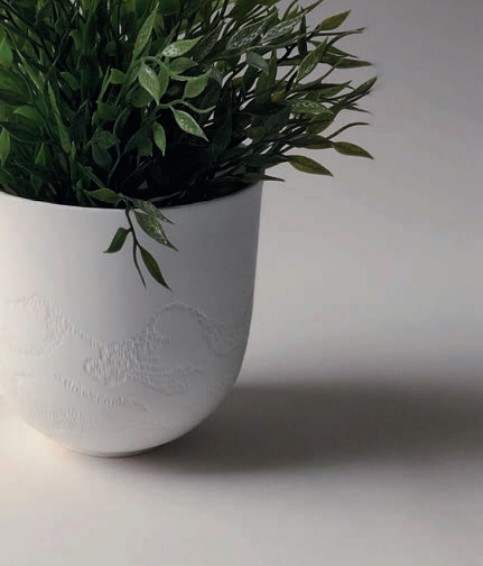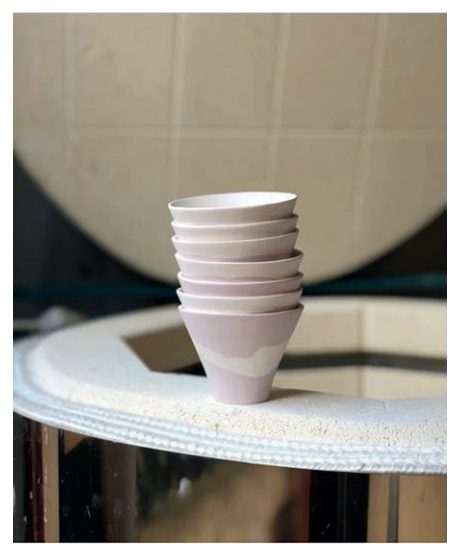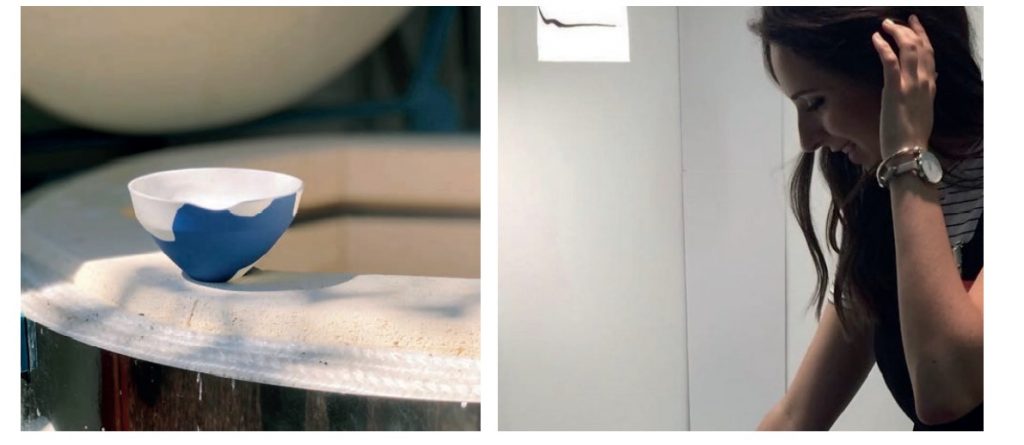 What is the process of creating one of your pieces? 
To make a Coast pendant light, each piece is cast in a plaster mould. To begin, I pour a layer of dark blue coloured bone china into the mould and roll the mould from side to side to create a random "wave" of blue. Then, the white china is cast second to create the vessel form. When the vessel has been removed from the mould and it is leather hard, I use a sharp tool to carve in the cliff like textures that run through the blue and white. This carving emphasises the transparency that occurs naturally in bone china. Bone china is challenging to work with as it has an unforgiving memory meaning any mistakes, however altered, will reappear once fired. Each vessel is fired twice, once to biscuit where it is polished to a satin smooth texture.
 Second, it is high fired to 1240 degrees and polished again. These pieces are unglazed but as they are polished twice through the firing process creates a very glass like smooth finish. Once lit they produce a beautifully soft, ambient light. I find these light shades are best viewed in small collections above an island or as part of a wall light.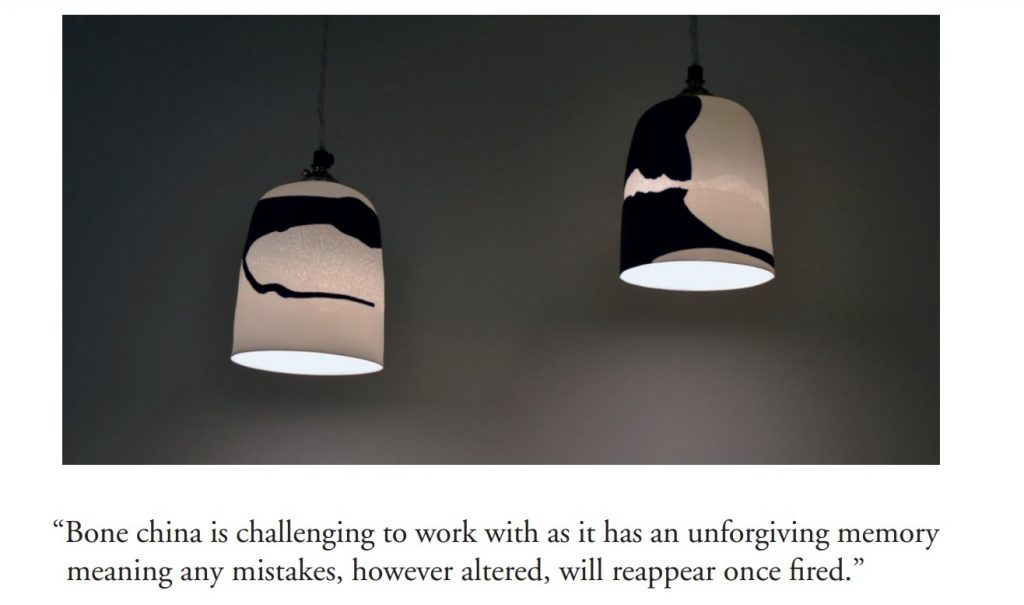 Which other materials fascinate you the most apart from china?
 Are there any you have not worked with but would love to try out? All ceramic materials are fascinating to me as they all behave so differently. I'd love to experiment more with terracotta and stoneware using different techniques such as press moulding and throwing. I have some experience with these but I'm very intrigued to see how these would develop my brand. 
                                                               What environments do your pieces suit best?
 I try to create objects that are suitable for everyday use in any home. However, I also create bespoke lighting suitable for contemporary interiors.
To see more of Saskia's work or to purchase your own, please go to saskiarigby.com or contact her directly at [email protected]