New York, 14th January 2022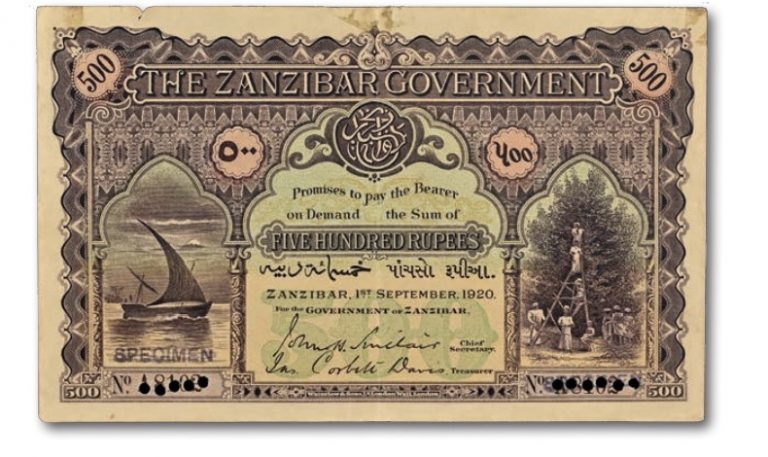 'When Spice Island meets NYC' 
 After a successful autumn World Banknotes auction in London, we quickly turned our focus to NYINC 2022. As the first banknote auction of the year, we are starting on a high with a complete set of Zanzibar currency. All banknote collectors will be familiar with its classic design of the dhow and clove tree, symbolising the importance of trade and agriculture to this small island off the coast of Tanzania.
This will be the first time a complete set is offered for more than 20 years. The set includes a surprisingly rare 1 rupee from its frequent circulation and its single year of issue in 1920. It is scarcer then the higher denomination of 5 and 10 rupees. Both the 5 and 10 rupees are in above average condition with bright appearances. The 20 rupees dated 1916 in green is often seen in its colour trial form in brown with issuing year of 1908 or 1928; this is the third time an issued 20 rupees is seen on the open market with a previous example being offered by Spink nearly 10 years ago. Along with the 1 rupee, 50 rupees is the only other 'single year' issue and at the moment all other examples known are either held in private collections or in the Crown Agents collection, currently on display in the British Library.
In April earlier this year a 100 rupees was offered by us which realised £90,000. With this particular example of the 100 rupees, other than the missing corner very few flaws can be found on this high denomination note from over 100 years ago. 

Now we move onto the highest denomination of this series, the 500 rupees. Much like the 50 rupees, examples are only found in private collections and in the Crown Agents collection. In its year of issue, 1920, the total annual paper money circulation in Zanzibar was over 3.5 million rupees, meaning this single 500 rupees note accounted for 0.015% of the whole island's annual circulation.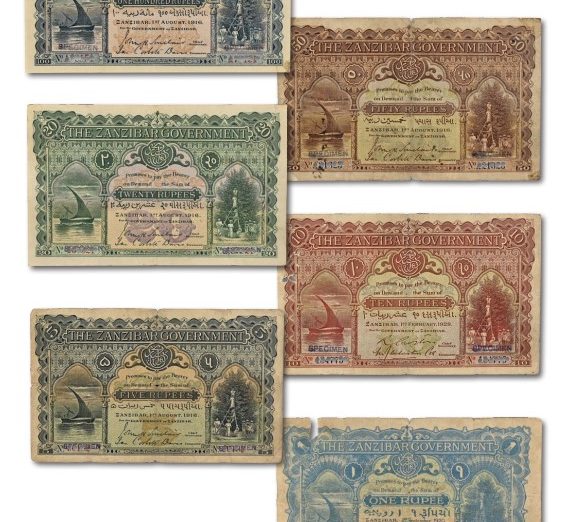 Much like the imagery portrayed on its banknotes, the name Zanzibar conjures up scenes of dhows in the sunset, and sandy beaches with an overlay of scent of spices. We hope this set of notes will create some 'heat' in snowy January in New York City. Having not being able to travel to the US for over a year, we hope to see many of our North American friends and collectors at NYINC.