In 1890 London held its first international stamp exhibition – it marked the 50th anniversary of the introduction of Universal Penny Postage and the issue of the world's first adhesive postage stamp, the Penny Black. In 1950 began the tradition of London hosting an exhibition with worldwide participation at the start of each decade (an exhibition was planned for 1940, but the Second World War meant the event had to be aborted, although a smaller exhibition was staged). The Business Design Centre was first chosen as the venue for a London 'international' in 2010.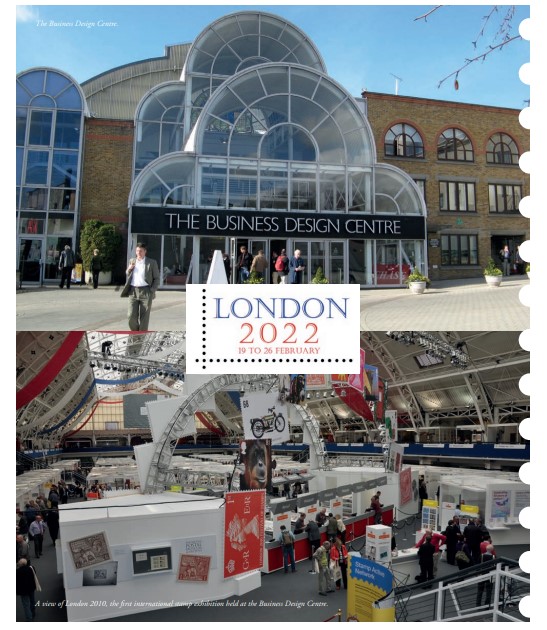 For reasons that all fully appreciate, the event planned for 2020 could not be held, but the good news is that London 2022 will take place at the Business Design Centre from 19th to 26th February next year. There will be a mixture of dealers and exhibits across two halls, one used primarily for the booths, the other for the competitive exhibits. Around 125 booths from around the world will include stamp dealers, auctioneers, publishers and postal administrations. Every collector will find something of interest, whether it be stamps or postal history, thematics or Cinderellas, stationery or revenues, plus the opportunity to buy literature and accessories.

Spink is proud to be one of the main sponsors of the event, and our large stand, number 87, will be in the centre of the main Mezzanine Floor area. The competitive displays will be equally international, providing the cream from the world's top collections. 
These will be on display in the 'second' hall. There is a huge demand to exhibit at a London 'international', so to ensure that as many exhibits as possible are shown the exhibition will be divided into two halves. The first half will be shown during the first four days (19th to midday on 22nd February), with the remaining half on display from the 23rd to midday on Friday, 25th February. Exhibits will range across all the recognised classes, namely Traditional, Postal History, Aerophilately, Revenues, Postal Stationery, Thematics, Picture Postcards, plus Open Philately, Modern Material, One-frame, plus an extensive array of Philatelic Literature. There will also be exhibits from young collectors under the age of 21.
The Royal Philatelic Society London will be among the booth holders, and many specialist societies will have tables in one of the large meeting rooms on Wednesday, 23rd February. Societies will also be holding meetings throughout the exhibition in the available meeting rooms.
For details about booth holders, exhibits and society events please visit www.london2022.co. The Business Design Centre's excellent transport links and surrounding shops and restaurants make for a perfect break in London; those wishing to stay can take advantage of the special arrangements with HotelSmart to secure the best deals at convenient hotels. Please click on 'Visits/Hotels' on the London 2022 website to find out more.