London, October 7th, 2022
As the scorching heat of summer gives way to the ochre-golden hues of Autumn in the northern Hemisphere, a similar transformation is underway in our London auction room. Our traditional Autumn offering (to coincide with the BNTA Coinex show) is filled with delights to suit every budget and taste. From the wonders of the now immensely sought after 1887 Golden Jubilee Proof Set to the exceptional eye appeal of a distinguished collection of British and World Crown Sized silver, the offering is sure to attract global attention. A strong complement of Anglo- Hanoverian material, our first for a number of years, continues our recent trend for high quality, market-leading offerings of Continental European material that has been the benchmark of our recent London and NY INC auctions. 
The  Dr  Brian  Harding  Collection  of Outstanding 17th and 18th Century Silver Medals is the true highlight of this sale. Curated and collected over decades, this unique sale will undoubtedly attract the highest calibre of collection for the exploding market of British Historical Medals. Ranging from the standard Coronation size issues, up to enormous Museum exhibition quality pieces, the appearance of some varieties will be an unprecedented event in the modern market place – a true hallmark of a classic Spink auction.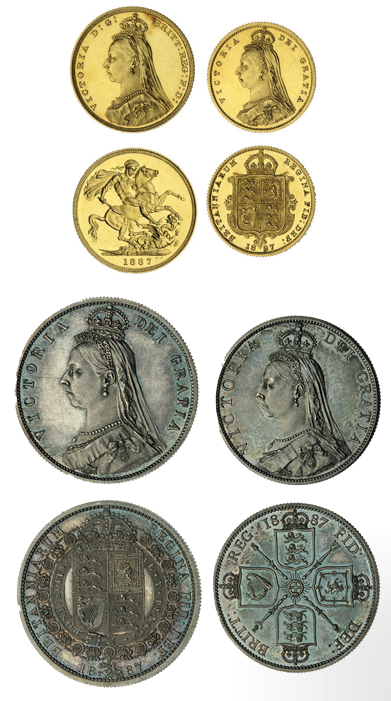 Examples of such rarely offered and scarcer pieces comprise of J Smeltzing's Administration Offered to William of Orange, Croker's magnificent renditions of political and military engagements from the reign of Queen Anne, as well as a less common striking commemorating the birth of Prince James. Whether you are an ardent collector or have a fleeting interest in some of the great maritime, political, economic or social events of 'modern' Britain, this sale is not to be missed!
The appearance of rarer strikings from China and Japan are also never far away from the Spink rostrum, with an important sale of the rare 1867 Hong Kong Proof Dollar to coincide with the dispersal of the ever-popular 1870 (Year 3) Meiji 20-Yen. Bolstered by third-party NGC encapsulation but sold under our revised and updated terms of sale, this auction will not disappoint as it provides the tantalising warm-up to the remarkable Ellerby Area Hoard dispersal spoken of elsewhere in this edition.
The BRITISH AND WORLD COINS AND COMMEMORATIVE MEDALS AUTUMN AUCTION will take place at Spink London on 7th OCTOBER 2022.
For further information please contact Georgie Potter, [email protected], or Gregory Edmund, [email protected].
An Introduction to Commemorative Medals in England 1685-1746 (2nd Edition) by Dr Brian Harding is available from Spink Books at the special Sale price of £20, click on the image below to purchase online.