A NATWEST CHARITY AUCTION - PART II
Spink London, 16th December 2022
The upcoming December charity auction features a wide range of paper banknotes, including numerous varieties of commemorative notes released over recent years. The auction, scheduled to take place on 16th December, includes commemorative renditions of the RBS £5 and £10 notes, to mark the golden and diamond jubilees of
Her Late Majesty Queen Elizabeth II. Some of the most desirable examples of the Golden Jubilee £5 note include serial numbers of Her Majesty's year of birth (1926), the year she became queen
(1952), and the year of her coronation (1953).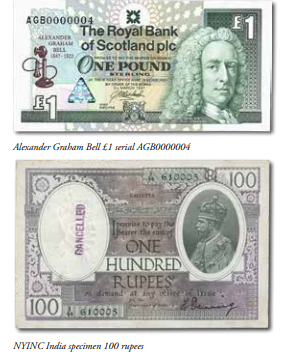 Serial number 1727 (year of the RBS's founding) can be seen once more on the Diamond Jubilee £10. Moreover, a group of RBS Ryder Cup £5 notes will be available to bid on. The notes are dated 2014, a notable year due to it being only the second time that Scotland has hosted the biennial golf tournament. Each note is complete with a limited edition holder and sleeve to display the banknote. The auction will also incorporate £1 note varieties with some prominent serial numbers, including the centennial of author RL Stevenson's death (RLS0000100) and the 150th
anniversary of telephone pioneer Alexander Graham Bell's birth (AGB0000004).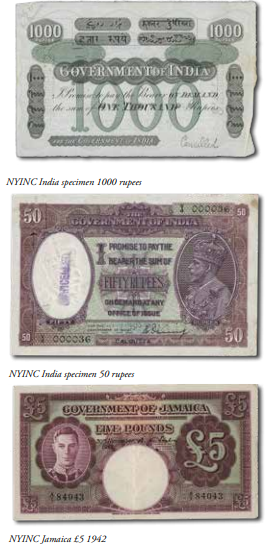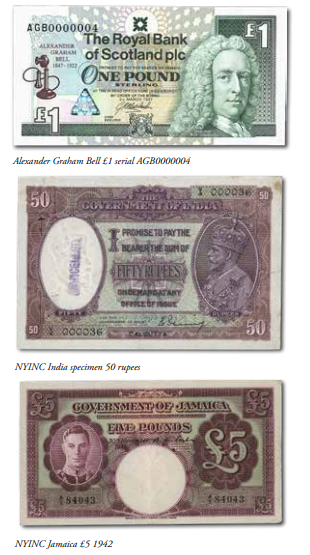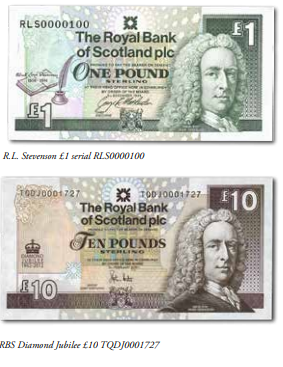 This trio of charity auctions will come to a close in the New Year, with the final event being held on 19th January. Commemorative variants
of the RBS £20 and £50 notes are scheduled to be offered on this date. The £20 was released in 2000 to celebrate the 100th birthday of Queen Elizabeth the Queen Mother in August 2000, and the 10th note printed (serial number QETQM0000010) will be obtainable for bidders for the first time ever, alongside notes with the serial numbers 11-28. The £50 note was released in 2005, and celebrates the opening of the Royal Bank of Scotland's headquarters, RBS Gogarburn. Serial number RBS000009 will exclusively be present. All of the charity auctions are being held at
Spink's London office on Southampton Row. Every reserve price will be set at each note's face value, in order to ensure that enough money as
possible is raised for charity. 
Furthermore, we are pleased to be holding the NYINC auction on 13th January. Some of the most notable items available include two Indian George V specimen 50 rupee and 100 rupee notes, both of which are exceptionally rare varieties. Additionally, there will be a 1944 Palestine £10, which has received a 50 'about uncirculated' grade from PMG; a very high grade for this note's variety. Another item is a 1942 Jamaica £5, also with a grade of 50; the highest grade that has been awarded by PMG for this note. 
Moreover, customers will also be able to bid on an India specimen 1000 rupees (Pick A19s) and a Malaya and British Borneo specimen 1000 dollars (Pick 6s). A 1938 Lebanon specimen 50 livres is included in the auction. With a PMG grade of 65 EPQ 'gem uncirculated,' this lot is extremely rare and will be yet another especially high-selling item.