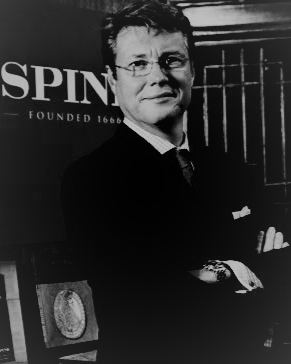 This autumn seems to have flashed by, and despite all the doom and gloom in the news there have been some highlights at Spink over the past few months, plus many exciting sales coming up to keep you going through the dark days of winter. But first I wanted to share my usual take on the state of the market, as more than ever before, I have frequently been asked about our views. Spink is unique as it operates in so many collectables markets and locations.
… and what if the economic winter was over as the first cold days just set in?
This is the big question as there is no doubt quantitative easing and its subsequent inflation have helped reprice most collectables areas. The easy part of the journey, as we have written many times in these columns, fuelled by abundant cash and the desperate search for reserves of value, must be coming to an end now. But there is another structural move possibly on its way back. More on that later.
For the first time since 2019, it is really possible to feel that the worst is over and look at the future with some confidence, as most bad news/problems – as with property prices – are known and already reflected in asset prices. Indeed, with the major exception of China, Covid is mainly behind us, even if the cases are still high – but we have finally learnt to live with it. The inflation which was at the highest level in decades seems to have peaked in November, certainly in Europe, and probably in most places around the world. As households are cautious almost everywhere, and consumption is slowing down in many areas, it is unlikely that consumers will be a big inflation driver, even though their salaries have gone up.


The energy crisis seems to be almost over as oil and gas prices have lost the best part of half of their value since peak pricing a few months back. The political and human tragedy in Ukraine might be also coming to an end as many governments are pushing for a ceasefire, which has to happen at some point. Long-term interest rates have also started to climb down from their recent highs, even if central banks are going to continue increasing short term rates, though probably most at a much more pedestrian pace. We are unlikely to see 75bp increases by central banks any more in Europe or the US. This is the famous 'pivot' we have all been waiting for, the new buzzword of business language after 'disruption'
in the last few years.
So I personally enter the festive season full of hope, for the macro environment. The whole
world, from boardrooms to households, was scared about energy prices, inflation, geopolitical situation and rising interest rates, but it might not be as bad and as long as expected. However, I was reading that the average price of the traditional Christmas dinner in the UK will go up by 22% yoy, and 50% from over three years ago. This might be our most expensive Christmas dinner for a while, so let's enjoy it with loved ones and raise a toast on the day for a better and easier future!

And now the big positive … the return of the Chinese collector.
As we all know, Chinese consumers have reshaped the luxury goods sector, among many others, and Chinese collectors are the main potential disruptors and re-shapers of our collectables industry. The trend started a few years back and indeed I moved to Hong Kong in 2013 to observe the phenomenon first hand.
After a three year parenthesis (2nd December was the 3 year 'anniversary' of the first official Covid case in Wuhan), during which basically Chinese collectors could not move easily within China, or attend shows, let alone travel internationally due to the strong restrictions imposed by the 'Zero Covid' policy, many long-term China observers believe that things will change on that front in the first half of 2023, if not in the first quarter.
And for the first time, we have seen in the last few days the first little moves towards relaxation. The quarantine upon arrival has been cut by two days, and Covid-positive patients and contact cases can now quarantine at home, instead of going to a not-always-luxurious government-managed facility. From our experience with Covid restrictions, we know that once we have pivoted to a more relaxed stance, then the staggered marginal improvements come relatively quickly.
So if our Chinese collector and dealer friends start to travel again, and if like us they indulge in 'revenge buying' as we all did, it promises to be spectacular. And this would be in the context of the Chinese property market and stock market, which after years in the doldrums have been supported by the Government and banks for the former, and sky rocketed in the last month for the latter.
The trend is our friend
This would be combined with the 'silver revolution', as on our planet of the recently reached figure of 8 billion people, we moved from 233 million people aged 65 and over in 2002, to 783 million in 2022, and the forecast is for 1.4 billion in 2043! A lot of potential new collectors, even if only 0.1% were to take up one of our hobbies, or 'catch the collecting bug', whichever you prefer. So a less anxiogenic economic environment in the next few weeks, combined with a return of the Chinese collector in the next few months, and an increase of the senior population in the next few years, makes me quite bullish on the outlook for collectables in the future. Of course we will collect differently, with more communication and more technology, but the hobby is alive and kicking.


In addition, the younger generation might surprise us. They like the 'planet friendly' aspect of collectables, recycled – by definition – forever, the technology starting to surround them more and more (we have another sale of Abbey Road artists' pictures, in which the physical picture is sold in conjunction with a DOT [Digital Ownership Token], embedding all the copyrights). Also many youngsters will realise that to better understand their future, they must understand past history.
Back to Spink
The 'Spink Roadshow' has been in full swing this autumn attending a multitude of shows around the world, where our specialists met with clients and took in consignments from no less than five different continents. Please see London News for a roundup of all our activities, and do come and visit us at the many shows we have planned for next year. 
We ended the season with two exceptional sales – our Orders, Decorations and Medals auction on 24th November, which saw the 1917 VC group of four awarded to Lieutenant- Colonel Bertram Best-Dunkley smash its £200,000-240,000 estimate and achieve an all inclusive price of £372,000, plus the first part of our Natwest Group Charity Auction on the 29th (see London News for full details). We therefore go to press on a real high, and hope the festive season brings more joy to you all amid the dark days of winter.
Looking forward to 2023, we head into January full pelt with both Bonds and Share Certificates and Philatelic Collector's Series e-auctions, followed by our World Banknotes sale at NY INC (the Roadshow continues!), and Fine Philatelic and Numismatic auctions in Hong Kong in early January (as the Chinese New Year on 22nd January falls unusually early in 2023), The Samraat Collection of King George VI Indian States and The Dato Professor Cheah Jin Seng Collection of Japanese Occupation South East Asia, to name but a few. For full details of all our Forthcoming Sales please visit the Spink website, and read about some of the highlights in the next few pages.
As always we have tried to include content of interest to readers across all our collecting categories, with a special focus on the recent launch of our exciting new competition for detectorists, Spink Find of the Year. Thus we have articles on Searching for the Next Henry III Gold Penny and A Day in the Field with the winner of our Books competition, plus a first-hand account on the discovery of the Lindsay Hoard. We shine a light on collecting whisky at auction in celebration of our joint publication with Braeburn Whisky, Whisky Cask Investment. [Our Whisky auction in Hong Kong on 17th November, led by Daniel Lam (see his interview in this article) had among the best results in the industry, and this despite the still relatively muted participation from our collectors friends in China. We sold a magnificent set of 36 Karuizawa bottles with views of Mount Fuji for $1.3mn and we also had our maiden cigar auction on the same day. Despite our inability to do any marketing due to the legal restrictions on tobacco sale and promotion, it was a resounding success, with all lots being sold way above estimates.]


Following the passing of Her Majesty Queen Elizabeth II in September, after an amazing reign during which collectables and stamps were both important – Her Majesty was a Patron of the RPSL and an exhibitor at every Monte Carlo Club rarities event – we take a look at Britain's memorial coins, but there is plenty of other fascinating and informative content for you to enjoy over the holidays, and into the new year.


At every event I attend I witness the joy of being able to be together again. It is a gift of Covid in some way. Let us cherish that and never take it for granted. The future is bright, and it belongs to those who understand past history, so to us collectors! I wish you all a great festive season with loved ones, and the promise of a total reconnection with your friends all over the world in 2023, to discuss collectables stories more than ever before!
Enjoy the season,
Yours truly,