THE PORT ROYAL EARTHQUAKE OF JUNE 1692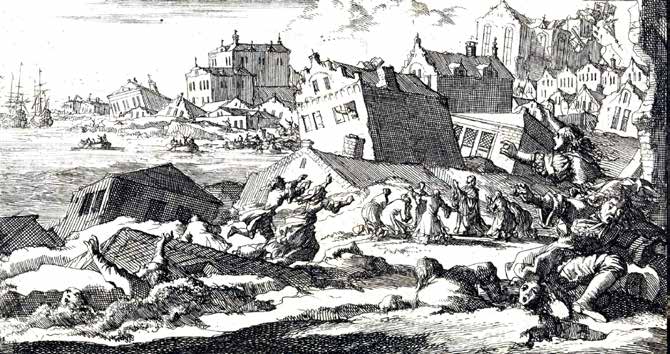 Port Royal was captured by the English in 1655 during the invasion of Jamaica. It grew very rapidly both in trade and in notoriety. Treasure from the sacked Spanish cities and goods from many hundreds of ships found a ready market here. It was fear of the men responsible for the acts, the Buccaneers, rather than the military, that deterred any Spanish attempt to recapture Jamaica.
With the signing of the Treaty of Madrid in
1670, most of the buccaneers accepted a free
pardon on the promise of a more peaceful calling, but the rest turned pirate. Port Royal continued to grow both in wealth and wickedness. In 1680, the Custos of Port Royal was Henry Morgan, and by 1692 there were 2,000 very substantial brick built houses, each of several stories, in the town.
What treaties had been unable to do was
soon accomplished by nature on 6th June 1692, when after a hot, sultry and overcast morning, the earth began to tremble. Within a matter of seconds, houses and buildings began to fall. As the earthquake passed the
indescribable horror of the tragedy was revealed. What was left of the town was in ruins; thousands of people perished.
The above letter was written by James Wales, the first British appointed Deputy Postmaster of Jamaica, at Port Morant to his cousin at "the signe of the Star in Blazing Lane, London".
The letter reads in part:
The 7th day of June last hapned a most terrible and unheard of Eartquacke by which was destroyed by Computation 3000 souls and the Towne of Port Royall did fall, in less than a minuites tyme and then sunk into ye earth, but ye water being on both sides of ye town did force the earth to Vomitt up both ye Living and ye Dead, of the latter was my Deare bro Ruding and his wife.
The "Dubois" Collection of Jamaica Stamps and Postal History will be offered for sale by Spink London in September 2020 – please see Forthcoming Events for further information.