GREAT BRITAIN STAMPS AND POSTAL HISTORY
Spink London, to be conducted behind closed doors, 13th May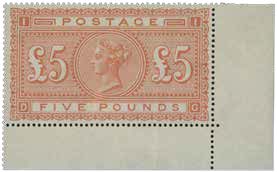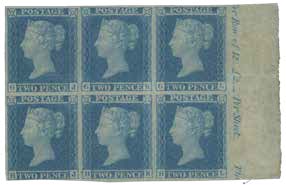 This is an interesting and compact auction with an emphasis on the stamps of Queen Victoria and King George V Seahorses. There are many lower value lots to appeal to a wider audience.
There are also some exceptional Mulready covers including the charismatic Wotton-under- Edge Maltese Cross as well as superb examples of numbers 1 and 7 in Maltese Cross.
With over 90 Penny Black lots there is a strong showing of unused, with some exceptional examples, concluding with several groups and ranges.
The 1840 Two Pence offering features a stunning unused block of four in a very rich blue shade; used multiples with blocks of four, inverted watermark and cancelled by a blue Maltese Cross.
Included also is an unusually strong representation of the 1841 Two Pence with an exceptional unused block of six with sheet margin, an unused block of four and an extensive and duplicated collection of nearly 2,000 stamps, arranged by sheet order, of the two plates (plus 2d Stars issue) which includes unused, multiples and some superb used.
There is a good variety of Surface Printed both in used and unused as well as covers. The high values include two very fine mint copies of the £5 orange, one with corner sheet margins. 
Later issue highlights include a marginal Jubilee £1 green lettered TA showing the rare broken frame variety.
The magnificent section of the Seahorse high values has the Waterlow values to £1 (10), however the focus here is on the shades of the De la Rue 10/- where all shades are represented with singles and blocks of four, including some which are either stunning or desirable.
Also on offer is a fine example of the 1935 Silver Jubilee 2 ½d Prussian blue error of colour, a few officials and concludes with the usual Collections and Ranges.
Don't forget to look out for our online auction in May. This features another powerful selection of Great Britain lots with the focus on the stamps of Queen Victoria, and we expect bidding to be fierce.
Great Britain Stamps and Postal History will be offered for sale by Spink London, behind closed doors, on 13th May 2020. For further information please contact Neill Granger, [email protected], or Iain Murphy, [email protected].