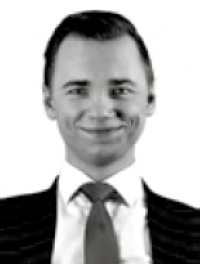 Arnas Savickas & Barnaby Faull
Spink London, conducted behind closed doors, 7th-8th April 2020
A Personal Introduction from Director of Banknotes Barnaby Faull
I thought I would add a few personal words to Arnas's introduction to the Angola collection. When Arnas called me to look at some scans that had been sent to Spink, my immediate reaction was to ask him to get the notes by any means possible and if necessary to fly out and collect them as soon as today if needed. I am not a collector (you can't be in my job), but I have however been fortunate enough to handle the most wonderful collections over the last few decades, which is the next best thing, and about twice a year I see something that makes me wish I did collect.
Last October, for example, we had a magnificent collection of Lebanese and Syrian banknotes; the Angola gave me the same buzz. The notes are beautiful and the fact that they were scheduled for destruction makes the discovery even more thrilling. I personally love essays, they are in my opinion the zenith of the banknote designer' art – intricate, colourful and historical, what more could you ask? Speaking on a personal level, they were a pleasure to catalogue and I am sure that whoever is fortunate enough to purchase them will treasure them, as I would have done.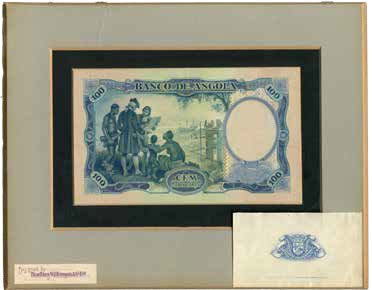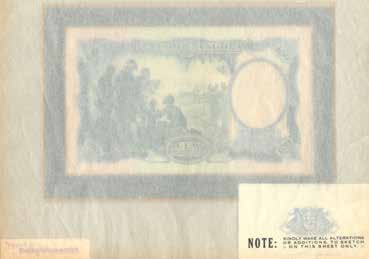 The Angola Collection
I am sure that many collectors wondered aloud,
"what a magnificent collection!" having seen the illustrated catalogue featuring composite
essays, specimens, and issued notes of the highest scarcity. The collection started when a private collector, attempting to raise money for his daughter's wedding, arrived at his local stamp dealer's shop in Lisbon, bringing along nine big blue envelopes containing archival material and the banknotes. He offered it to the store owner to purchase but the owner, not knowing much about banknotes nor having much interest in them, politely declined the offer. Luckily, at the same time a friend of the shop owner and passionate stamp collector Elder Correia was present in the shop. Glancing through the material, Elder quickly realised that it was of the highest rarity, and has for many years enjoyed it.
I would like to mention here just a few, starting with my personal favourite which is the (1946-47) series 10 Angolares featuring Padre António José de Sousa Barroso, a missionary in
Angola and Mozambique. In this series, you can find anything from gorgeous vignettes to issued banknotes, and everything in between. The note that particularly captures my attention is lot 670, with three framed vignettes
all in different colours, at lower left of the frame is a hand stamp CONSEHO DO GOVERNO DO BANCO
DO ANGOLA 17/5/45 and manuscript 'Aprovado' and signature below.
Another particularly impressive lot is
687. Framed composite essays on board
for a 100 Angolares featuring obverse and
reverse parts of the banknote separately,
in our opinion this was a final design
presentation that had been sent to the
bank for approval. An interesting feature
on the reverse part of this essay that makes
it so special is a paper overlay which on
the lower right is annotated ''NOTE:
KINDLY MAKE ALL ALTERATIONS
OR ADDITIONS TO SKETCH ON
THIS SHEET ONLY'' Barnaby has
never previously seen this type of paper
overlay (neither have I).
We hope that our April sales will prove a
welcome distraction from the troubling
times that the world is going through at
present. Most importantly we trust that
all our collectors' friends and families
will stay safe and well until this horrible
situation comes to an end. Good luck.