Spink's London flagship building reopened to the public on Monday, 15th June. It has been too long. Come and visit us soon!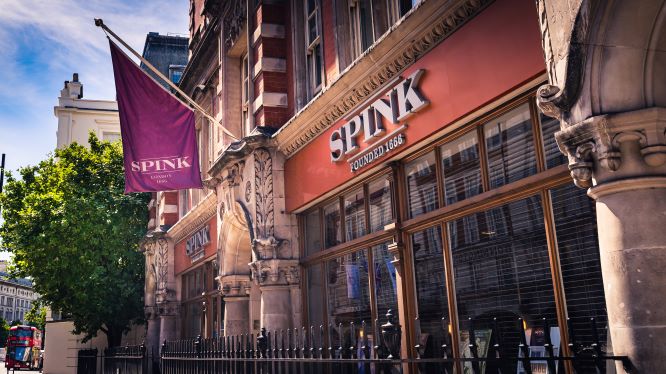 Dear Friends and Clients
I hope this finds you and your loved ones safe and well. 
Your safety and our staff's is our top priority, and I am pleased to say that we are anti-Covid compliant thanks to the dedication of our staff, having implemented all the Government requirements and more.  If you have forgotten your mask, step in – we'll gladly give you one.
If, as many of our clients and friends do, you live outside the UK, we know that you might come to London in your own timing, as the UK still has two weeks quarantine for any person entering the UK (British or non-British). It was instigated on 8th June (no typo …) and we believe it will be removed relatively soon as it prevents not only the economy bouncing back but also the need for families, friends and business associates to get together again. During the lockdown, I have spent many hours a day in video calls, interacting in 2D with staff and clients. I am now really looking forward to the return of 3D. One thing that Covid-19 has reminded us is that we need human contact, and we cannot be deprived of it for too long, or the risk might be even greater than a nasty virus.
As you know, during the lockdown we have operated with a skeleton staff, to offer you an amazing range of auctions and their virtual viewing. Since 1st March, we have delivered 27 auctions to our bidders. They were all behind closed doors but the number of people online and bidding shattered all records. I received a lot of feedback thanking us for bringing some distraction when it was much needed. It also provided purpose and fun to the staff involved.  And of course, we will continue in full force from this day onwards.
As we said in late March in our Insider magazine (A Word From Our Chairman, Issue 36) this virus will be defeated, and we have many more reasons to believe it today than back then. Some world leaders have compared the fight against this virus to a war. I think it is correct in the sense that each war has brought far-reaching social changes.  Nothing new, but an acceleration of pre-existing underlying trends.
I am now less convinced that there will be a new world order post Covid-19. I would like it but I am not sure when I see the reactions of financial markets. One thing is for sure, all the changes that Spink were preparing quietly have been brought forward and Spink will be entering a new age. An
age where the digitalisation of many things we do will enable our staff to have more time to do what they enjoy the most – be of service to you.  So all the initiatives you will see shortly at Spink will go in that direction. Expect from us more hybrid auctions.
These auctions link the experience of e-auctions and build up to a live room event where internet bidding is superseded by an auctioneer on the rostrum to close the lots with style and passion.Every crisis is both a threat and an opportunity. At Spink, even in the darkest moment of the crisis, we chose hope and life and renegotiated the long-term contracts of our two main offices in London and Hong Kong. We have made more long-term commitments during what we hope is a short-term crisis.
We are starting our new world with a massive renovation of our Headquarters in London to serve you even better online and in person. You might remember that 20 years ago we were one of the first auction houses to impose restrictions on our printers on paper and chemicals used for our catalogues. We are going to go further to limit our impact on the planet and restrict among other things our mammoth catalogues and their equally oversized distribution lists. We all religiously keep our collectables for future generations, so why not treat our planet the same way?
We are now ready to see you again in our main offices in London and Hong Kong. (In New York, some restrictions still apply.)  As we have said repeatedly, now is a great time to sell your collectables, as the audience has never been so generous and so in need of a distraction. For average items, it is probably the best time in a decade and might be for years to come, as when the travel restrictions are lifted all over the world the market will focus again on the more rare, beautiful and historically important items.
We look forward to welcoming you at Spink to discuss these selling opportunities.
Yours truly
Olivier D. Stocker
Group Chairman & CEO