FORTHCOMING SALE: STAMPS AND COVERS OF GREAT BRITAIN
London, September 13th, 2022
1841-53 1d Red-Brown Plate 177 horizontal pair, unused. Ex Lady Mairi Bury
1840 1d black pair, superb used
Following in the wake of the hugely successful Klempka family collection of Great Britain part one held in June, we are pleased to be offering a specialised auction of Great Britain material this autumn.
The auction will follow a similar format to previous specialised sales with sections of Line Engraved proofs and essays, Mulready envelopes and letter sheets and strong sections of Line Engraved with a lovely range of both mint and used Penny Blacks including some very fine covers.
1880 hand painted essay for a proposed 2d value
1880-81 1½d colour trial in rose
We are also pleased to be offering two named collections as part of this auction, the Jack Bailey collection of 1858-79 1d reds, part one, consisting of mainly large plate number blocks including a corner block of twelve of the elusive plate 225 with plate number. The second named collection is of that formed by Malcom Suttill; the main part of this collection is an exhibit of the 1881 1d lilac with hand painted essays, proof material, large mint multiples and scarce and unusual usages.
Alongside the aforementioned we have fine sections of King George V, Booklets, Officials and a superb Spanish West Indies Mailboat Used Abroad cover to the USA, posted at Santo Domingo bearing 4d red tied by 'D26' cancellation, this being the only known example on cover.
The September auction is sure to be an exciting sale with plenty of specialised and seldom offered material.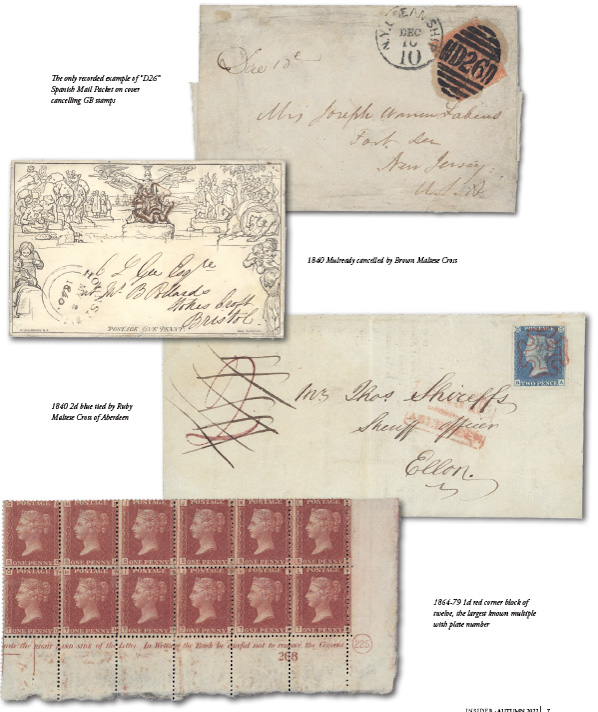 Stamps and Covers of Great Britain will be offered for sale by Spink London on 13th September 2022.      
For further information please contact Michele Martini, [email protected], or Dominic Savastano, dsav[email protected]