The Numismatic Collectors' Series sale will take place in Hong Kong on 19th August 2020.  For further information please contact Kelvin Cheung, [email protected].  
Hong Kong, a silver medallion commemorating Hong Kong City Hall, 1867, obv: Queen Victoria, 'Wan Shou' edge, rev: HONG KONG CITY HALL FOUNDATION STONE LAID BY H.E. SIR RG. MACDONNELL, C.B. 23RD FEBRAURY 1867, R.G. MacDonnell (1814-1881), was the sixth Governor of Hong Kong, (Prid-318 PE), PCGS PR62 Ex. Irving Goodman Collection. Dark toning around the peripheries. Only 6 graded in the PCGS report with 2 higher at PR63 and PR64. The cataloguer cannot find any recent auctions in which this type has been offered. An extremely rare and highly desirable item!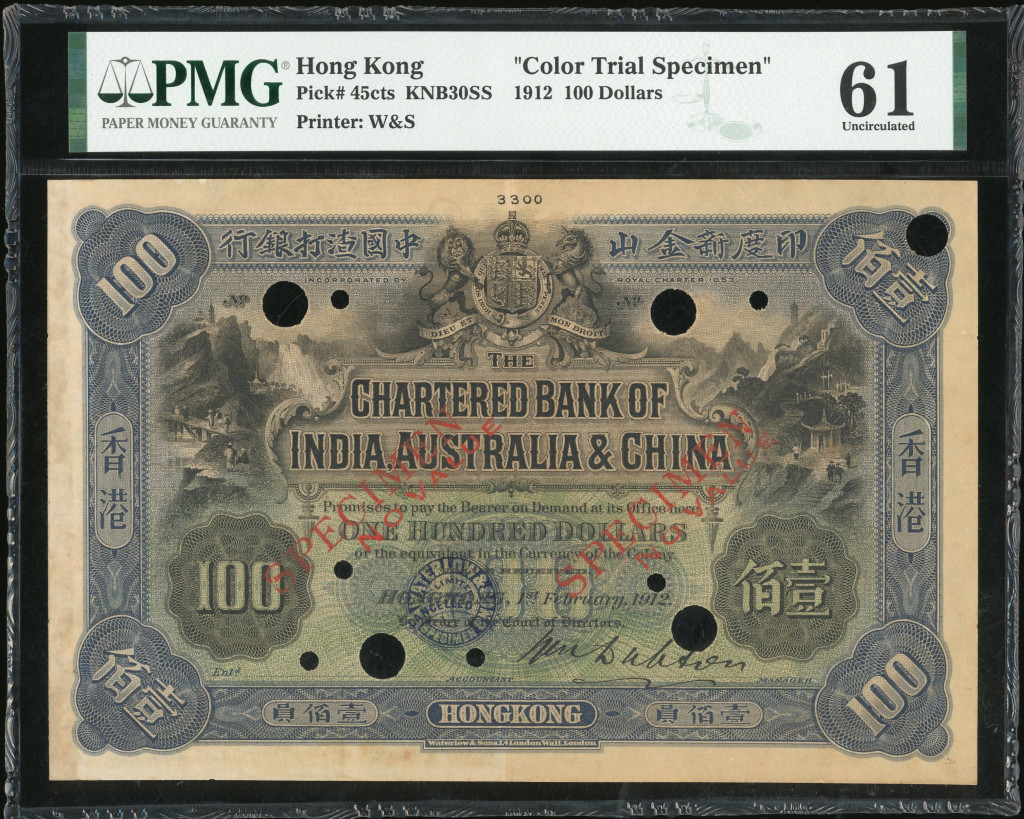 The Chartered Bank of India, Australia and China, $100, colour trial, 1.2.1912, without serial numbers, blue, grey-green and black, Bank arms at upper centre, walkers on solitary bridge at left, walkers on stairs to pavilion at right, printed manuscript signature of Dickson at right, reverse green and black, the old Bank building at centre, hole punch cancelled, (Pick 45ct), PMG 61 Uncirculated (Previously Mounted). Of the highest rarity and a classical type note in the Hong Kong series. This note is colloquially known as the 'Solitary Bridge' locally and genuine examples (including specimens, colour trial and issued notes) are all extremely rare. This series was relatively short lived due to prolific counterfeiting and many people today often mistakenly believe the contemporary forgeries are genuine notes. Hopefully the appearance of this note, along with the true colour specimen and a forgery will help collectors to gain more knowledge of this type. Only one of three notes graded by PMG and this is the single highest graded note. A truly magnificent note.
People's Bank of China, 2nd series renminbi, 1953, 10 Yuan, serial number <I V II> 1343828, black and pale orange, peasant couple at centre, denomination at four corners, watermark of Chinese national emblem at right, reverse similar colours, national emblem at upper centre, (Pick 870), PMG 64 Choice Uncirculated. A superb high grade note with lovely colours. A key note of the series and much sought after.
The Mercantile Bank of India, $50, colour trial, no date (1912-30), blue, green and orange, vignette of junks and sampans on lake, '50' at each corner, blue Waterlow seal at lower left, reverse brown and black, Mercury at centre, (Pick 238ct), CURRENTLY IN PMG.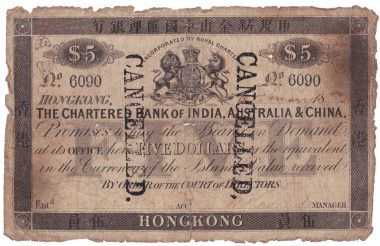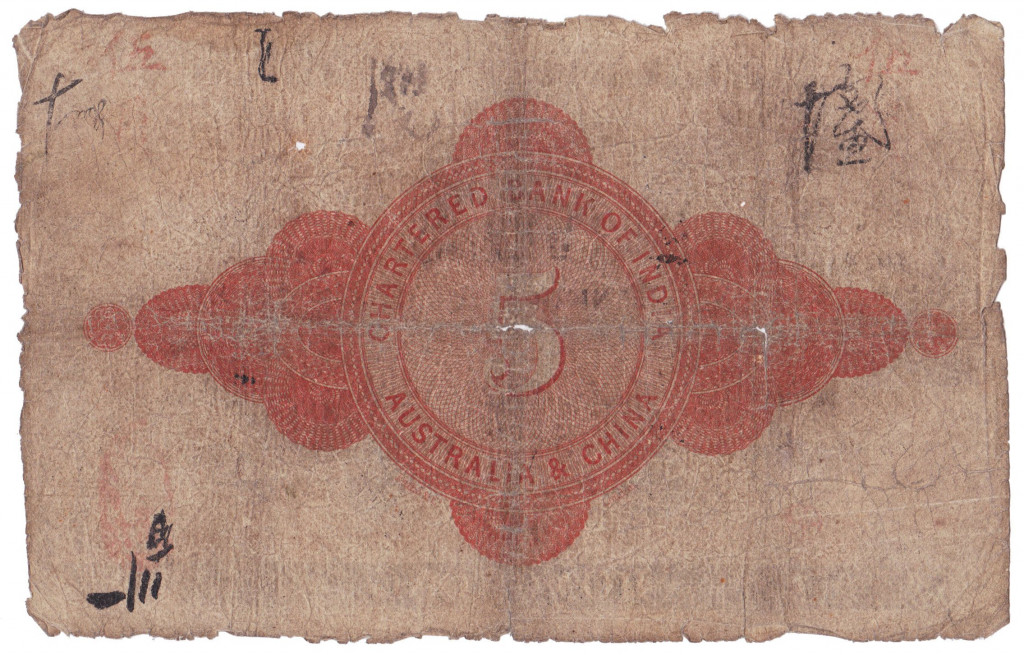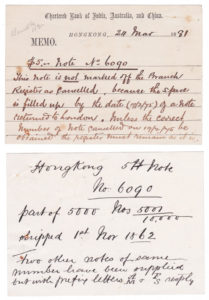 The Chartered Bank of India, Australia and China, $5, 16.2.1863, serial number 6090, handsigned twice, Bank Manager and Accountant. Stamped "Cancelled" at left and right centre. Exceptionally rare; with two memos. *This note was apparently part of a file of late redemption Chartered Bank notes from the Orient. The file was culled from the Bank's records during a Second World War paper drive. A recycling paper sorter saved these few documents, along with other curiosities that caught here eye, such as colourful restaurant menus, etc. In 1985, they were sold by her now elderly daughter. *This is the second oldest Chartered Bank note known for Hong Kong, the earliest being a $10 of 1862. *Together with the note is an original document, partly handwritten and part printed, which reads: [Printed:] "Chartered Bank of India, Australia, and China. MEMO. Hong Kong," [manuscript:] "24th Mar 1881. $5 Note No. 6090. This note is not marked off the Branch Register as Cancelled, because the space is filled up by the date (19/2/75) of a note returned to London. Unless the correct number of note cancelled on 19/2/75 be obtained the register must remain as it is. "Hongkong $5 note, No. 6090, part of 5000 Nos 5000/10,000, shipped 1st Nov 1862. Two other notes of same numbers have been supplied but with prefix letters AM & FS respty."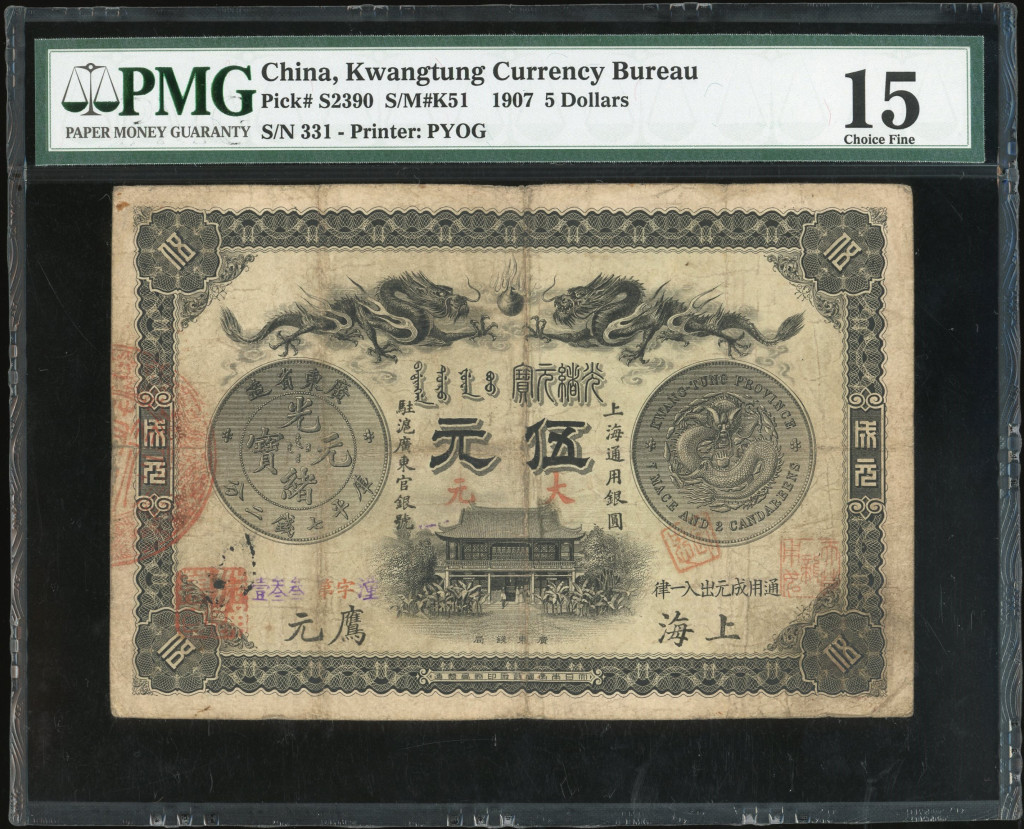 Kwangtung Currency Bureau, $5 Mexican Dollars, 1907, serial number 331, black, facing dragons and fireball at upper centre, Kwangtung silver coin at left and right, house at lower centre, Chinese characters stating 'Shanghai Mexican Dollar', reverse black Chinese text on light green, official red stamp/chop marks on both sides, (Pick S2390), PMG 15 Choice Fine. One of the rarest and most iconic Qing era notes in nice original condition with strong colours. According to a well respected expert in Chinese currency only three notes are known to date. Ultra rare.
Hong Kong, silver 20 cents, 1905, Key Date, PCGS MS64, extremely rare and only 1 higher in PCGS population.
The HongKong and Shanghai Banking Corporation, 5 Mexican Dollars, Shanghai, 1.3.1897, serial number 119484, brown on blue underprint, bank coat of arms at top centre, '5' at each corner, two handsigned manuscript signatures at bottom, 'Shanghai' printed on bottom border, reverse red, large bank arms at centre, (Pick S367), PMG 40EPQ Extremely Fine. One of four notes in the PMG population report, the single highest graded note and the only one with an 'EPQ' status. An outstanding note in many different ways that will surely be a paramount item in any collection. Not to be missed!!