Walking from Southampton Row, meandering through the side streets of Covent Garden and Leicester Square you might expect to stumble upon a few decent places to eat; but head towards the galleries and museums near Charing Cross and 'Bancone' for something a little more unexpected – an operating theatre, of sorts. From the street a passer-by might find their attention drawn to the window in which a solitary chef devotes his attention to his practice. The chef, with his head bowed in deep reverence, sets out his counter. An array of tools with cutting edges and smooth wooden handles wait at his side as he diligently prepares the patient, now stretched out prostrate on the counter – fresh pasta.
'Bancone' means 'Counter' in English and when approaching the restaurant it is clear why this name is so fitting. Walk inside and the diner is greeted by a long bar-style counter stretching out ahead, on one side sit the diners on raised stools; on the other stand a row of chefs, stage lit for all to see. Centre stage a chef cuts, incises and shapes the pasta into myriad styles – stringing the dough out, expertly slicing into ribbons and  bows, some with fine perforations, others with smooth edges. Behind the artisan, others prepare ointments and dressings with equal art that are later to be laid over the pasta in a final act of care. Like those enlightened Victorians awestruck at The Old Operating Theatre, diners at Bancone will find it hard not to be enraptured by the artful work of its staff.
As a highly anticipated opening in a city newly back on its feet, booking is essential; it is possible to choose the theatre-style seating at the long shared counter from which diners can observe the chefs hard at work, deftly creating the intricate pasta and other creations. This seems a good choice for an intimate lunch with a friend or loved one, working particularly well for two guests seated side-by-side. The other option is to sit at standard height tables with comfortable banquettes, a lovely and cosy alternative, which still allows diners to appreciate the buzzing atmosphere of the restaurant at large as well as the open kitchen in the background.
A very attentive band of friendly waiting staff is quick to seat, bring menus and offer water to our eager group, ravenous after a busy morning at Spink and keen to sample Bancone's trademark handmade pasta. Heads go down and the menu is ooh'd and aah'd at by each diner in turn. Alongside the food menu, a modest all-Italian wine list is on offer and we opt for a bottle of their reasonably priced House Primitivo.
Our dedicated server returns with water and wine and asks how we are getting on with the menu; careful to check if there are any allergies or questions, she gives us a few more minutes. Our furrowed brows and darting eyes and fingers pointing at almost everything on the menu signalling to her that we are perhaps struggling to decide; deliberating more like jurors in a particularly complex trial and less like the pleasure-seeking diners we in fact were.
This is testament to the mouth-watering menu offered up at Bancone though, everything on the menu sounds delicious. Gorgonzola filled polenta with leeks, Coppa and nutmeg anyone? Or perhaps Burrata with roasted pumpkin and walnuts, or, if you don't want antipasti, how about some homemade focaccia – light as a feather, pleasantly anointed with olive oil and dotted with Datterini tomatoes. Oh, decisions, decisions! If in doubt, order the lot. You will not be disappointed. Oh and add some wafer thin slices of melt-in-the-mouth smoked duck breast for good measure.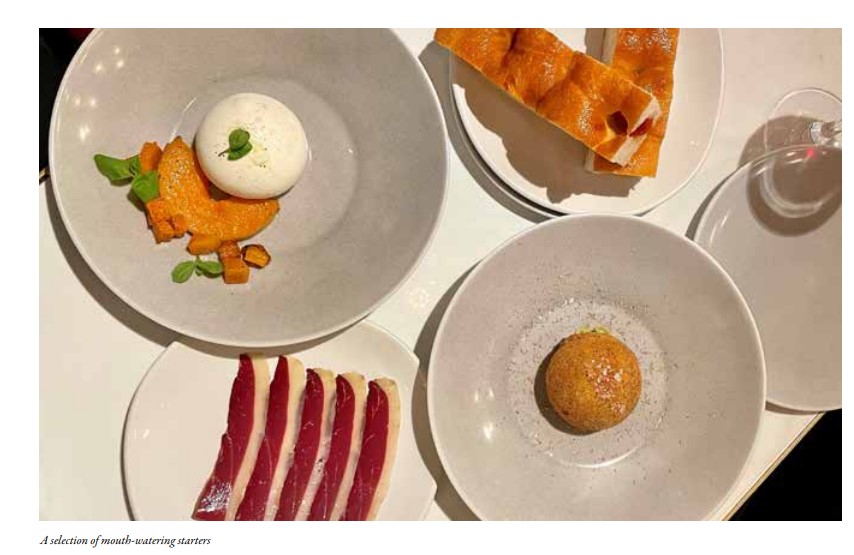 Feeling particularly pleased with our ordering, we ask the server to spread the plates in front of us to share. We will have no FOMO here. A particular menu highlight and favourite of us all was the polenta; a crispy dome of fine polenta, fried to perfection and filled with a creamy, picante melting gorgonzola sitting on a fricassee of buttery leeks, flecked with Coppa and lightly seasoned with nutmeg, lending welcome spicy, earthy notes to a rich but well-judged starter. The burrata was beautifully creamy and fresh, bursting with buffalo milk acidity and nicely tempered by the sweetness of the roasted pumpkin and bitterness of the ground walnuts. I
could go for another right now.
Following closely on the heels of these fine appetisers came what we had all been waiting for, the homemade pasta in various guises and the perfect vehicle for a delicious array of sauces and combinations. Between the three of us, we tried the spicy pork and n'duja ragu with mafalde, the braised ox cheek with Barolo vinegar and pappardelle and the wild mushroom ravioli with nut butter and porcini broth. 
Overall, we were very pleased; the sauces were packed full of flavour and the meat tender and meltin-the-mouth, the Barolo vinegar on the pappardelle dish adding a welcome acidity that cut through the richness of the slowcooked ox cheek. The pasta on one or two of the dishes could have been a little thinner and perhaps lighter, but this is being hyper-critical.
The frenetic open kitchen and buzzing atmosphere of Bancone reminded us of the fever-pitch excitement of Spink on an auction day; so, next time you are in town to attend an auction, collect your purchases or simply to pop in and see your friends at Spink, why not keep the high-octane auction energy alive and visit Bancone for lunch?